Rigid Signboards | Coroplast, Falconboard, Foam Core, and More with Custom Printing
---
Rigid Sign Boards - Custom Yard Signs & Sandwich Board Inserts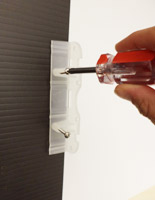 Rigid sign boards are an excellent way to publicize important information. Are you looking for an inexpensive solution to indoor or outdoor custom signage needs? These wall sign brackets provide top quality, sturdy hanging at an incredibly low cost. These sign panels are offered alone or in kits including wall hanging brackets. The rigid sign boards can be used alone or inserted into a sandwich board or yard sign. The user only needs to decorate the sheet themselves or choose an option that comes with high quality UV digital printing!
These rigid sign boards are multi-faceted signage soluations! Attending a campaign rally? Advertising your lawn care business? Looking for a new message for your sandwich board? With these custom printed sign boards, you can choose any graphics, text, or images to be printed in high quality, outdoor-rated ink. Print anything on these coroplast, falconboard, or foam core boards, from company names to high-resolution digital photographs!
These holders are a great alternative to other types outdoor signage. The user can reuse a corrugated plastic "Yard Sale" display over and over, adding more value to this purchase. In addition to this holder, the company offers many types of mountable outdoor signage and hardware. Some of these product lines include banners, Aframe signage, hanging hardware, mountable plastic and acrylic frames, office and store décor, a pole mount and much more. The hanging or mountable hardware can be used to hang pictures, poster frames, and more. Many businesses also use the various trade show supplies and lobby display merchandise to add to hanging or mountable signage presentations.