Media Carts for Computers, Projectors & Interactive Electronics
---
Media Carts with Open Shelving for Storing & Transporting AV Accessories
Looking for a media cart to transport a computer or other audio video devices in a school or busy office? Each of these portable trollies provides an efficient and safe way to move multiple AV devices to different locations. Never worry about carrying heavy devices again with this media cart! Displays2Go has one of the largest selections of multimedia stands available in their online catalog! The AV stands, durable media carts are fabricated from rugged materials such as steel, other metals, and plastic which help to ensure a long lasting unit that is sure to please! Available in many finishes, customers are sure to find a mobile unit that will meet even the most demanding portability needs. Each audio video cart in the online catalog has unique features that add to each units appeal, usability and overall efficiency. Ideal for a school, office, recreation facility, church or any other professional setting, these units are sure to fit any portability need!
How does a customer determine which audio video trolley is best for their specific need?
It is important to determine a budget when selecting an media cart for purchase. Displays2Go has one of the largest selections of multimedia trollies online and prices vary greatly. Each customer should determine how much they are willing to invest in the final purchase.
Each audio video cart in the online catalog features great add-ons while other stands offer minimal features and are just basic trollies. It is important that each customer determines what benefits and features are important when looking for a mobile media unit. Generally speaking, when working on a budget, it is not necessary to spend extra money on an audio video cart with extra features, if those add-ons will not be used.
Many stands will be purchased for use in a school or busy office. While to some customers the appearance of the mobile unit may not be important, it may be important to others. When selecting a cart, it may be wise to determine if it is important for the mobile trolley to accentuate the environment in which the unit will be used. Displays2Go has portable trollies in a variety of materials and finishes to match any décor!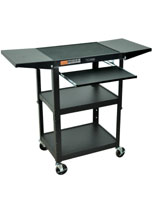 An audio visual cart, like a computer caddy, is highly portable. These portable trolleys are popular choices for schools and offices because they are ideal for environments that need to move AV devices from one location to the next or for environments where multiple departments share equipment. Each audio visual cart has (4) rolling caster wheels that glide easily over most floor surface allowing the unit to move fluidly. On most models available in the Display2go online catalog, 2-4 of the rolling casters feature additional safety measures such as wheel locks or brakes. These features ensure the portable furniture will not roll when stationary and helps keep the unit stable while mobile. Never risk injury or worry about dropping heavy items again with this mobile computer stand! Each media storage cart provides a great way for a school or office to maximize their budget by purchasing one set of equipment along with a mobile furniture unit for all of the classrooms to share! Classrooms and offices will be well equipped with one of these computer stands!
What are the advantages of purchasing a TV cart from Displays2Go?
AV devices are expensive and by using a portable computer caddy, a customer is choosing a safe way to transport multiple valuable multimedia devices at the same time! Using a mobile furniture unit means customers no longer need to make several trips, avoid injury to themselves by not carrying heavy equipment, and avoid damaging equipment which can be caused by dropping devices. Instead, customers can load one trolley to its weight capacity and safely transport equipment efficiently.
By using a portable trolley to transport equipment, a school or office can alleviate budget problems! Using an AV stand means that each classroom no longer needs to be individually outfitted with multimedia equipment. Each portable unit transports devices efficiently, so AV equipment can be shared, drastically reducing costs and helping to save money!
Each mobile trolley features many unique additions such as a side shelves, adjustable height sides, pull out trays, surge protectors, and other add-ons that make presentations with this unit easy!
Multimedia stands sold by Displays2Go range from the most basic media stands to elaborate rolling units with add-ons such as pullout shelves, adjustable height sides, or built-in surge protector. Customers are sure to find a stand to meet their needs from this diverse collection of mobile computer stands. Built to last for years to come, these mobile projector trolleys are a cost effective and efficient solution for even the most demanding portability needs.
This online retailer has the most comprehensive selection of mobile furniture units and portable trollies! View the online catalog for television stands and other POP displays. Customers can place an order by using the secure online ordering system, which can be visited 24 hours a day. We also accept orders over the telephone by calling 1-800-572-2194.