LED Menus - 2 Sizes, Rechargeable Batteries
---
Rechargeable Illuminated LED Menus That Stun Your Guests & Patrons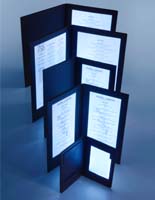 These Rechargeable LED menus are ideal for use in night clubs, hotel lounges, and upscale eateries. These displays come in two different sizes, 5-1/2" x 11" and 8-1/2" x 14". The smaller size is ideal for presenting drink lists and the larger size accommodates wider selections, such as full-scale dinner offerings. Backlit menus that glow make reading any listing in a dark establishment easy and fun. Use these covers to effectively showcase drink choices, specials lists, dinner options, and dessert selections at nighttime. These LED menus that are ideal for chic restaurants will help provide customers' with a unique dining experience. These holders feature an exciting motif that will add to any décor. These LED menus that feature a book-style design make it simple for guests to quickly browse offerings, especially if there is a wide selection. Use these displays for a stylish and effective way to promote food and beverage options in dimly-lit locations. Light up menu covers are also great for use in luxurious hotels, low-lit bistros, and trendsetting bars.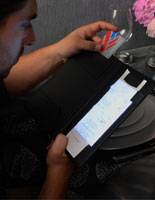 Attract and hold guests' attention with these trendy and useful holders. LED menus allow list contents to be viewable in even the darkest of night clubs or bars. Purchasing these covers will help transform commonplace food and beverage establishments into desirable nightlife destinations. Fashionable covers will help convert any ordinary restaurant or night club into an enjoyable, fun, and high-class environment. These holders allow food and beverage establishments to simultaneously feature dim-lighting for a hip or romantic ambiance and an easy way for guests to read dining offerings.
Why should restaurant, hotel, and night club owners purchase these LED menus?
Illumination makes reading lists in dimly-lit locations fun and easy.
PVC waterproof covers protects sheets from damage.
Ideal for displaying entrée selections, specials, drink lists, and dessert choices.
Offer a stylish design that will make any environment more exciting and current.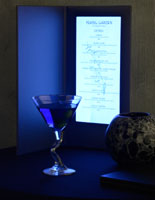 What are the major features of these posh LED menus? These displays have a PVC waterproof film. Waterproof lenses protect lists from damages including spills and see-through covers also feature a convenient slide-in design. This simple insert design makes swapping drink lists, specials, dinner displays, and other lists quick and easy. Light-up food and beverage list holders feature a black PU leather covered hardboard with no padding except for the padding on the check presenter. Help save the environment with these illuminated displays. These LED menus utilize light emitting diode lighting which is much more energy efficient than the lighting used by similar models. These displays light-up when opened and immediately turn-off when closed to best conserve battery power. These LED menus last for three to six hours without closing the holders at all and the illuminated check presenters last seven to eight hours without closing the presenters. In addition, these covers only take four to five hours to fully charge. Backlit menus feature a discreet charging port for optimal aesthetic effect.
Why should customers purchase these LED menus from this online source?
Since 1974, Displays2Go has been one of the leading display companies in the nation.
Unparalled discount pricing.
Order before 3PM and get same day shipping on most in-stock items.
The online catalog, featuring over 4,000 products, has something for every business need
All products offer the ideal balance of affordability with durable quality.
For over 38 years, Displays2Go has provided customers with trusted quality and service.
Food and beverage list displays make showcasing offerings easy. These displays are ideal for use in dimly-lit settings such as night clubs, eateries, hotels, and bars. Accessorize with plenty of bar or restaraunt supplies. Chargers and paper for these covers are sold separately. Paper for these sleeves comes in two different sizes: 5-1/2" x 11" and 8-1/2" x 14". Use the 5-1/2" x 11" size for smaller lists like drink choices and dessert options, and use the 8-1/2" x 14" size for more substantial lists, such as entrée selections. In addition, single or ten slot chargers are available for purchase upon request.