Menu Jacket with a Clear PVC Screen That is Ideal for Restaurant Settings
---
Clear Menu Jackets Are Ideal For Restaurants That Feature Consistently Changing Menus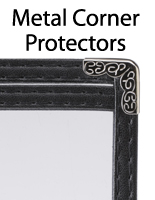 Why should restaurants and businesses use this PVC menu jacket to improve their business? This fake leather display is available in a wide variety of different sizes and styles to accommodate the needs of any café or bake shop. This vinyl menu jacket has a double stitched design around the border to prevent any fraying or excessive wear and tear. These affordable restaurant sleeves also feature metal corner protectors available in different finishes. Choose from gold, silver or brass corners. There are plenty of great features that make this list holder ideal for any café, bake shop or diner.
What are some of the features of this menu jacket collection?
Metal Corner Protectors
Top or Side Slide-In Design
PVC Screens
Multiple Sizes
Plenty of different size and style options are available. Looking for a wine or drink specials list? The single sheet menu jacket is ideal for constantly changing lists with only a small selection of items. Have a more expansive selection? This collection offers displays that can hold up to (12) pages. Holders are available to hold either 8-1/2" x 11" or 8-1/2" x 14" sheets. Employees can easily print out new entree lists on the go and slide them into this menu cover that is PU leather.
The waterproof PVC film is ideal for protecting sheets from being damaged and can handle most sized spills, preventing users from having to print out new lists. These affordable displays are even cheaper when purchased in bulk quantities. Pair this restaurant jacket with other great accessories like table tents, polyester restaurant throws, condiment racks and more. The black composite leather border coordinates with any décor.
One of the best features of this line is the affordability. These jackets can be used in an upscale setting or a simple diner. Match the corner protectors to different settings to really add to the appeal of the décor. Coordinating different accessories can add to an already attractive presentation. This menu cover has a thin profile, making it easy to stack a large amount of them in a small area. Easily store large quantities when not in use. Sheets are easy to print out for use with this display! Most printers can accommodate the 8-1/2" x 11" or 8-1/2" x 14" legal size sheets.
What businesses use these menu covers
Restaurants
Cafes
Bake Shops
Sports Bars
Selection lists are easy to read through the PVC screens on this menu protector that is composite leather. Each of these displays is durable and will last for an extended period of time, giving purchasers their money's worth with these sleeves. Different styles are also available including book style, or fold open style. This menu cover is available in a single-page, double-page, three-page, four-page and six page designs, many available with multiple colors of metal corner protectors. This PU leather restaurant menu holder meshes well with any décor. These jackets are approximately 1" thick when laid flat, making them easy to stack underneath a hosting station or bar. This cover is easy to stow away in large quantities when not in use. The double stitched design around the frame will help prevent any fraying of the menu, making them longer lasting. Purchase this menu protector or other restaurant supplies in bulk quantities to receive a better price.
Other styles of restaurant list sleeves are also available to improve any dining facility setting. Check out our brand new series, the LED illuminated menu holder selection! Available in several different sizes, these displays light up as soon as they are opened and the battery life lasts for approximately 3-6 hours of continuous use. For restaurant owners looking for something a little flashier than the synthetic menu holders and covers, this LED series is ideal. There is a wide selection of different sizes and styles available to accommodate different menu selections.
Displays2go offers plenty of accessories to transform the décor and visual appeal of any restaurant, bake shop or café! Try and pair this restaurant menu cover with table tents, bulk food bins and other great accessories. Also check out the selection of podiums and lecterns that make great hosting stations! Also browse through the wide selection of window signage. Get neon write-on boards or LED messages to attract more customers. Many different wood and plastic styles are available for purchase on this site. Many options are available that can help improve any café or restaurant. This site's main catalog currently features more than 7,000 unique SKUs. Orders can be placed online or over the phone.