Dress Forms - Jersey Material & Wrought Iron Boutique Store Fixtures
---
Boutique Store Fixtures Include Male & Female Mannequins for Showcasing Upscale Outfits
Looking for an adjustable body form for a retail store or sewing shop? These female and male displays, adjustable height dress form mannequins are sold by Displays2go and can be found in many national retailers. Each clothing display is ideal for a sewing shop or retail location that sells apparel and accessories. Dress forms provide a great way to showcase women and men's attire in a unique and classy way. Merchants use these mannequins because they are cost effective and attractive. Many dress forms accentuate stores and are often used as props in window displays and advertisements. Retailers can use these fixtures alone as small advertisements or with other similar models to create larger compositions that really wow!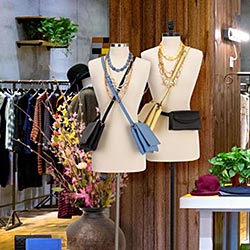 How can these sewing models be used?
The understated appearance of these clothing fixtures enhance the look of the items being modeled without detracting from the overall brand message.
Seamstresses and tailors use forms to aid in the designing, construction, and altering of dresses, suits, and any other apparel designs.
Dress mannequins can be used as a decorative accessory in a store as well as a functional display.
Merchants select these clothing racks as they are incredibly versatile. Sewing bodies are important visual merchandising tools. Each of these female and male displays feature a fiberglass core covered with padded fabric. These dress forms are pinnable and are ideal for dressmakers and tailors who design their own clothing or make alterations. These mannequins are ideal for sewing shops as well as vintage boutiques that sell apparel and accessories. The topper accents the sewing models and gives them an upscale look. The dress mannequins are adjustable in height to achieve the desired visual effect and are supported by a strong and sturdy metal rail. This metal rail is anchored in a coordinating decorative wood pedestal style base that accentuates any environment. To adjust the model's height, simply unscrew the plastic stopper, slide the body up or down until the desired height is reached, and then secure the plastic stopper in place by tightening the screw. Height adjustment is simple and can be accomplished in seconds! Please note that features are specific to each model and may differ slightly. A complete list of dimensions, measurements, and features can be found on the individual product page of each body display.
Merchants use these pinnable dress forms as a decorative fixture that serves to create ambience in a store or as eye catching clothing displays. Others used these body models for functional purposes such as sewing and pinning fixtures for dress and suit creation. These female and male adjustable racks are very versatile and are great solutions for almost any need! Many retailers use these mannequins as showcases to highlight a particular item of clothing or with other similar marketing aids to create larger and more intricate window compositions designed to lure prospective customers into the store. Each female and male fixture can also be used to model accessories such as handbags, necklaces, ties, and other wearable items. Be creative and make advertisements pop with these displays! Merchants will find that these sewing models will quickly become an irreplaceable visual merchandising tool!