Restaurant Menu Covers Include Photo Album Style Corners
---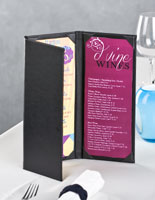 Restaurant Menu Covers are Made from Imitation Leather for Affordability
Are your restaurant menu covers worn and ripped? Is your food service location spending hundreds of dollars on print services, because your menus aren't protected? These covers provide a quality crafted solution for any style restaurant! Upscale dining establishments, as well as cafés and family-oriented facilities, utilize some form of protective sleeve or book style holder for their wine and or food listings. Crafted from quality materials, with durability in mind, these hardcover menus feature a case bound construction in a contemporary application. Customers can choose from a variety of sizes and designs, including single page up to a 6-page view. These restaurant menu covers, called wine lists holders or menu books, have a classic hardcover design, and are made from imitation leather, otherwise known as leatherette. These materials ensure the specials holders are durable, ideal for fine dining establishments as well as casual eateries, such as bistros, cafes, or bars! Ideal for quick, simple changes due to album-style corners, these holders for food listings are optimal for eateries with daily specials. Plus, hardcover menus provide the means to create a lasting visual impression while placing your name right in the customer's hands! By design, these wine list holders will help to keep the printed listings free of stains and spills normally associated with a dining room atmosphere. Using these restaurant menu covers in fine dining and upscale eateries will, in essence, help to reduce print costs by keeping the papers in pristine condition. The interior of this book style binder features photo album corners for a wine list to slide in to position. The design does not require the use of tape or other adhesives to secure the graphics. This style enables restaurateurs and wait staff to quickly and easily change menus at a moment's notice.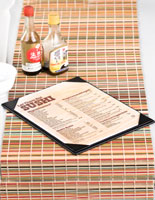 Another great feature of these wine list holders, restaurant menu covers is that they can quickly be wiped clean within seconds, at the start or close of each business day. Durably constructed, the imitation leather material helps to prevent tears. The menu holders' hardcover has a textured look to simulate genuine top grain cowhide, which is a fraction of the cost of upscale leather menu books. The matte black finish is ideal for a variety of eateries, from fine dining establishments to family-oriented facilities. The café food listing holders, are designed for either a 4-1/4" x 11, 8-1/2" x 11" or 8-1/2" x 14" sheet of paper. These standard sizes enable users to edit or change listings regularly, to encourage drink promotions or dinner specials! Menus can be printed on any standard printer, due to the convenient paper sizes. This convenience enables waitstaff to change from breakfast items to lunch specials in mere minutes!
A restaurant menu cover, such as the ones offered here, features either a book-style, trifold or multi-page design. Each specials holder also features photo album corners, enabling printouts to easily slide into place. This design is much easier to maneuver new listings into, versus the full slide-in designs of other restaurant menu covers. The photo album corners of these hardcover menus for upscale eateries are designed for a single sheet of paper. The use of thicker paper materials is recommended for durability, but certainly not required.
What are some advantages to using this restaurant menu cover?
The design of this book-style holder adds a touch of class to any eatery, as well as blend with the upscale appearance of fine dining establishments for a fraction of the cost of other high-end coverings.
Help keep food listings and printouts clean and free of stains and damage normally associated with cafés and family dining establishments.
The vinyl book style holder makes it easier to read the selections, especially if there is a large amount of food and drink options.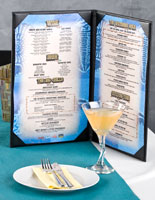 What are some important factors to consider when purchasing?
The imitation leather material is cost effective, while still providing a more upscale appearance than clear plastic coverings.
Book-style design - The front and rear sides of each hardcover specials holder can be debossed with your company logo (not included, contact your local sign shop).
Ease of use - standard paper sizes for printed menus; ideal for quick specials changes.
We include these book-style, hardcover menus as part of the collection of specials holders for food service locations. In addition to these menu books, various other advertising solutions for restaurants and fine dining establishments can also be found here. More than 4,000 other marketing display products and retail merchandising fixtures can also be found in this online selection. Table tents and many other merchandising items that are commonly used in cafés and other fine dining facilities can also be found on this website. This online catalog features high quality items, which are sold at economical prices, to benefit all of our customers. Call to speak with one of many call center agents Available Monday - Friday
8am - 8pm Eastern Time US. These experts can answer product questions, place orders or check on existing order status. These staff members have completed months of intense training on the products and services offered here, and are required to attend weekly trainings on all new fixtures that have presently been added to this e-catalog. For shoppers that would rather text than talk on the phone, there is also live chat available weekdays from 9am-5pm. These online experts can perform all of the same functions as the phone specialists with the exception of placing orders. For quality merchandise with exemplary customer service and support; shop here at Displays2go!