Pub Table Sets Embody a Cool Contemporary Style
---
Pub Chair and Table Sets — Height-Adjustable Furniture for Modern Interiors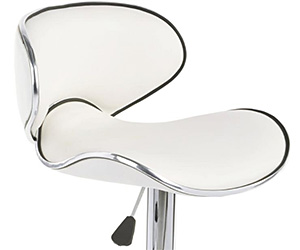 What makes these bar stools and tables so versatile? Our pub table sets are jam-packed with features that are conducive to a variety of commercial settings. Beginning with the obvious — restaurants and bars — this bistro furniture is among the most stylish offered. This line of seating blends classic mid-century modern style elements for a sophisticated result. Our pub table sets, comprised of one table and two chairs, are constructed of quality materials that stand up superbly to wear and tear. They feature compact footprints that work well in a tight spaces, such as inside a trade show booth. Any way you look at them, these pub table sets are head-turners that make quite an impression.
What features set these modern furnishings apart from standard bar seating?
Affordability: Simply put, our pub table sets are the most competitively-priced in the marketplace. Leatherette models are less expensive than authentic leather, and look just as plush and beautiful at a mall counter, bar, or trade show booth. Purchasing more than one set further reduces the cost to you.
Durability: These modern stool sets are resilient in ways you wouldn't expect from such a sleek, elegant presentation. They're constructed of many different materials, including ABS plastic, laminated wood, and tempered glass. The wide variety of options appeals to our buyers who want to make a bold statement - while ensuring their purchase provides a good value. Highboy tables in smooth ABS plastic resist scratches, even when used every day. Tempered glass tabletops are great for professional use because of their durability and sophistication. Synthetic leather stands up to everyday use just as well as its "real" counterpart, plus it's less expensive. The metal bases feature chrome or brushed stainless steel finishes.
Comfort: Models are available with or without backrests. Most come with a footrest to encourage circulation after hours of standing at a sales expo or trade show. The padded chairs are the most comfortable, but the molded plastic seats offer an equally comfy surface by providing extra support. Adjustable height models offer even more comfort settings and are available on the chairs as well as the tables.
Style: Our fashionable cocktail furniture offers optimal functionality, but it's the retro appearance of each design that attracts the eye. Each set is modern and sophisticated in the mid-century tradition. Funky lines go hand-in-hand with futuristic curves. Two chairs and a table also provide intimacy for a one-on-one conversation or a casual meeting. The "pub style" means tall seating, but others can join the conversation standing up and not feel like they're imposing.
What's the best placement for these modern bistro sets?
Upscale cafes, bars, and restaurants are where you'll typically find this trendy seating.
Exhibits and trade shows often have conversation spaces marked out on the convention room floor so guests can get more personalized service, fill out forms, or observe product demonstrations.
Why should offices be boring? Make any professional environment look fresh and up-to-date. Buy several sets and place them throughout a building to encourage brainstorming and collaboration across departments, while enhancing the decor at the same time.
Event planners like the taller height of these tables and chairs that allow guests to chat and mingle comfortably with seated guests.
Retailers create conversation spaces so customers can learn about products, whether they're selling a service or offering makeup consultations. The high-tech look featured here has a broad appeal!
Finally, these furnishings can be used for more than just commercial use. A modern kitchen remodel with room for a small seating arrangement is tailor-made for one of these sets.
Displays2go features a large selection of contemporary bar stools just like the funky models shown here. If you're in the market for a standard height chair, but don't want to sacrifice mid-century style, our modern office chairs feature handsome designs for today's contemporary workplaces. These in-stock furnishings ship out same day and offer great value at an awesome price.