Square Tower Showcases - Raised Bases & Pedestal Style
---
Square Tower Showcases - Glass Display Cabinets for Retail Store Merchandise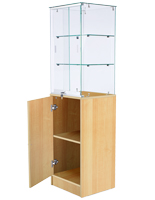 Are you looking for crisp and elegant square tower showcases to add to your place of business? Regardless of the merchandise or environment, these freestanding display cases can offer functionality and sophistication for any sales floor. These showcases are constructed of tempered glass shelves and hinged or sliding panels. By removing obstructive framing, these full glass display cases provide a complete view from all angles. This category has compiled a collection of retail cabinets, including full and half view displays. These frameless tower showcases, also known as glass display cases, are available with sliding and hinged doors.
Create a space that illustrates a focal point with a glass floor standing cabinet. Rather than relying on a corner or countertop case, narrow glass display cases stand tall and make a statement. Freestanding cabinets complement existing cash wraps and fixtures well with its subtle and sleek design. Whether a facility could benefit from full or half view showcases, look no further! Within this category a collection of various base options, including different color finishes, bottom lock storage cabinets, and slender foundation units forming a full glass stand.
How can these glass display cases be utilized?
These frameless tower showcases are ideal for expensive jewelry exhibits. Not only will delicate and valuable pieces be shown off in style, they will also be safely locked away when not in use.
Glass store fixtures offer a presentation station for museums to present artifacts, relics, antique heirlooms, and ancient findings. The floor standing cabinet provides a narrow case that can be situated appropriately allowing observers to circle the unit for optimal viewing.
Promote school honors, sporting team standings, club rankings, and organizational pride with a trophy case. Accomplishments and accolades can be made front and center in any lobby or front office showing pride for an academy's achievements.
Collectibles remain safe and inaccessible to customers who may tamper with the items by touching. High valued memorabilia rests elegantly upon the glass shelves for a custom display set up.
Frequently gift shops and retail stores make use of these tall and narrow fixtures. Rather than being limited to wall cases, cash wraps, or countertops these frameless tower cabinets provide variety and a central stand for displaying merchandise.
These frameless tower showcases are designed for users that have inadequate floor space. Though these cabinets are constructed with a slender frame there is not a compromise regarding capacity. Whether these fixtures are utilized to clearly display products or have inventory concealed in the locking base, each tower case maximizes its space accommodation. Multiple base finish colors are available, such as maple, cherry, and black. No matter what the environment or setting a display cabinet can be found to match!
What are some of the major features these stands include?
Tempered glass shelves and side panels. By implementing tempered glass it reduces the risk of breaking. If the panels and shelves do happen to break, it will shatter into numerous small shards as opposed to large pieces that become dangerous when handling.
Should the large cabinets need to be relocated the units are designed to reduce inflicting injury to flooring. Plastic glider pieces are fixed to the base bottom of the cases making it easier to move without damaging the floors upon which it sits on in the process.
Free standing glass cabinets available with either sliding or hinged doors are ideal for any environment. For quick and easy access these locking panels glide or swing open with ease. Additionally, the security locks provide a safety feature preventing tampering, vandalism, or theft.
Full view or half view frameless tower cabinets allow complete visibility for products or concealed storage space for additional inventory. Narrow upright stands are alternative space saving options for a retail store. With the removal of frames from the design it allows an unobstructed view for merchandise while on exhibit.
Removable shelves accommodate larger and taller items when necessary. The option to remove the fixed shelves provides added convenient and versatility when setting up cases display arrangements. By being given the opportunity to include or eliminate certain shelves, it provides an opportunity for a vast amount of merchandise to be added to the assortment.
Affordable glass displays that are assembled to appear as one continuous unit provide a seamless and unique store fixture. The functionality and aesthetically pleasing designs of these freestanding narrow cabinets offers a merchandising tool that is sure to impress. Any one of these units is ideal for entrepreneurs, business owners, or industry administrator promoting products, awards, or collectibles. As opposed to low level countertops and cash wraps, these pillar style store display cases allow customers to easily view items as eye level. Feel confident with a floor standing cabinet that can be set up as an individual entity anywhere on the sales floor.
This freestanding display case category is only one of the numerous specialty items offered through Displays2go. Take some time to browse and look through the extensive online catalog for a wide variety of styles, shapes, product lines and finishes offered for display cabinets. In addition, be sure to check out the vast selection of original, impressive, and efficient marketing tools stocked in our large warehouse. If an order is placed (Monday - Friday) before 1:00 PM EST typically it will be shipped the same day when in stock. Orders can be placed online or by calling customer service at 1-800-572-2194 Monday - Thursday 8:00 AM - 6:30 PM EST and Friday 8:00 AM - 5:00 PM EST.