iPad Mini Stands - Wall Mounted, Countertop, and Floor Standing Tablet Holders
---
iPad Mini Enclosures Turn Your Device into a Retail Kiosk or Checkout Station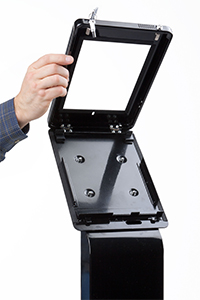 Are you looking to utilize a tablet in your store, restaurant, or trade show booth? Our iPad Mini stands offer numerous placement options and features, including floor standing, countertop, and wall-mounted cases that come with keyed locks, home button covers, and rotating brackets. Finding the tablet display that's right for you starts with determining how it is going to be used. For modern and versatile POS systems, consider countertop iPad Mini stands. They're compact, they can optionally bolt onto surfaces for stability, and they have essential functions like rotation and space for card readers. These enclosures allow employees to ring up purchases on a touch screen, then spin it around for a customer to add a tip, sign, and choose how they'd like to get their receipt. When it comes to info kiosks, nothing beats floor standing iPad Mini stands. These height-adjustable, locking fixtures let customers explore your full catalog, see examples of your work, and even place orders away from the register all without the help of a store associate. Their sturdy bases and security features make them a great choice for especially busy areas where you might not always be able to keep an eye on them. A wall-mounted tablet holder is the most permanent option, which makes it great for things like collecting customer feedback and playing advertisements. That's not to say that they can't also be used for things like ordering or showcasing product demos, but they are best suited to autoplay content.
Where are iPad enclosure displays typically used?
Retail — Setting up promotional iPad Mini stands where customers can browse through a gallery or view how-to and instructional content about a product is an effective way to increase sales without the need for a sales associate to give a hands-on demo.
Restaurants, Delis, & Food Trucks — Tablets as cash registers are becoming increasingly popular across all industries, but most commonly in the restaurant and food service industry. Employees can punch in an order and have it sent directly to the kitchen and then swipe the customer's credit card. Their versatility and portability is crucial in the emerging food truck and pop-up sectors, where everything needs to be compact.
Trade Show Booths — Place an iPad Mini kiosk in your space to give visitors content to browse through or watch while waiting to speak with a representative. In case you miss that crucial face-to-face networking opportunity, a tablet loaded with lead generation software can store potential clients' contact info for followup after the show.
Residential — Set up a personal stand to watch movies and how-to videos, look at recipes in the kitchen, or to accompany you as you learn a new hobby. Budding musicians can study technique and keep sheet music nearby and even record their progress with the tap of a button.
When choosing an iPad stand, it's important to consider what its use-case will be. Portability and security are two potential concerns, so finding an enclosure that ticks all the boxes is easy with a little planning. The other crucial factor, of course, is fit and compatibility. Not all tablets have the same dimensions, so take a look at our wide selection of holders for iPads and tablets including Air, Pro, and Mini models, as well as Android and Microsoft Surface, to find the match for your existing device.