Custom Stanchions with Personalized Printed Belts and Wraps
---
---
---
---
---
---
---
---
---
---
---
---
---
---
Stanchions with Custom Printed Belts, Fabric Wraps, and Vinyl Inserts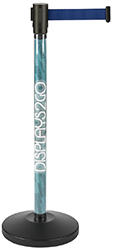 Need a crowd control system that features your company's name or logo? These custom stanchions are ideal for increasing brand awareness. Retail stores and service organizations often use barrier posts to create orderly lines — why not feature your branding in that highly-visible space? Custom stanchions with printing, or personalized queue poles, are an excellent way to spread a company's image because they're guaranteed to catch patrons' attention. Retractable belts can showcase brand names, logos or services in up to three ink colors. Concert venues and stadiums can put band or team logos across the length of the barrier. Because of their visibility in high-traffic areas, these branded custom stanchions with are often rented to advertisers and event sponsors for promotional purposes.
Retractable belts with a logo add a nice finishing touch to any environment. Normally a functional, yet forgettable, fixture, custom stanchions can be matched to existing decor and effectively pull together the theme of any setting. Each crowd control post has a sturdy steel base and includes a strong nylon retractable belt. Our barrier stands are great for promoting brands — whether they're placed in shops, around trade show exhibits or museums.
What types of custom stanchion options are available?
Personalized printed belt — Available with 1, 2 or 3-color silkscreening, each tape measures 6.5' long and will connect to other posts with ease. Choose to print either single or double-sided to get your message across. A simple one-color logo looks great on any color belt, while 2 or 3 colors are better for more complex images. Aside from company or product branding, users can also print important messages. Write "Do Not Enter" or "Employees Only" to clarify restricted areas to fans, customers and concert-goers. Placing a statement directly on the belt conveys your message and works more effectively than a simple sign or piece of paper. Personally create your image with our easy-to-use templates that will make adding your artwork to your crowd control system simple.
Clear posts with vinyl inserts — Go beyond simple silk screened belts with some full-length customized artwork. We offer pre-inserted vinyl graphics in clear posts to feature your logo right in the center of each personalized stanchion. This style comes with digital printing, a process that creates vivid, full-color images. No matter how colorful or complex your branding is, these vinyl wraps can show it off! Each crowd control post is made of durable see-through plastic while the base is made of steel to remain stable even in busy environments. Discover stands with retractable belts in four colors to accommodate your business.
Personalized fabric wraps — Existing crowd control posts can also be updated with customized graphics. Our personalized fabric wraps are made to be displayed on these fixtures with a stretch fit. These covers are printed with a dye sublimation process that also creates a full-color image. The wraps are made of durable, stretchy polyester that's both flame resistant and machine washable.
Stanchions' main purpose is to control lines and crowds, often going unnoticed as customers meander through winding queues. These barriers with personalized printing are a great way to change that. Match your belt to a specific theme, or sell space for sponsors to put logos! It's a great opportunity for advertisers and venues alike to gain some exposure and make extra capital. Crowd control often goes without any visual appeal, but these customizable queue poles are ideal for increasing your promotional capabilities. All customers will pass through these line systems in retail environments, making these fixtures prime real estate for a company's image. Enhance your branding efforts further with pole sign toppers that can hold advertisements for events and products. Businesses setting up a service system at an event or in a mall will stand out while using this type of post. Wherever there's a need to direct crowds, there's another opportunity to feature your branding. Be sure to order online at Displays2go.com for fast shipping and bulk order pricing.