Museum Display Tables w/ Locking Cabinet & LED Lighting Options
---
Museum Quality Glass Tables Showcase Artifacts, Historic Memorabilia, Jewelry, and Art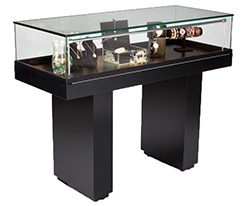 Are you a merchandiser or curator that is looking for new high-end fixtures for your retail store or showroom? No matter what is on display, exhibits that feature quality furnishings improve guests' experience on entry. Use these museum display tables to create masterful presentations for your next event or gallery showing. Take advantage of 360° viability on each of these fixtures, featuring tempered glass panels on every side. Use these highly-visible cases as an island in a showroom floor, or against the wall in conjunction with a hanging piece. These locking museum display tables give guest and customers an overhead look of the contents inside and are great for highlighting expansive product lines or cohesive archaeological finds.
Our cases are built from top-quality materials designed to withstand heavy use in high-traffic areas while maintaining a high-end appearance. We use medium density fiberboard (MDF) for our bases, which is more durable than solid wood in retail and gallery environments. Tempered glass tops are shatter resistant, and in the case of an accident, will break into rounded pieces as a safety measure. Each museum display table comes equipped with a lock and key mechanism, to ensure valuables remain protected while left unattended. Some models include a pneumatic lift system, which adds a luxury feel when demonstrating the objects inside. Contemporary styles feature LED lighting, which highlight key items in low-light areas.
Many of the display tables shown here are a part of a larger line, so be sure to check the description and SKU of each product to match other fixtures sold on our site. By creating a unified theme throughout your gallery, guest will be able to focus more on the art than what it is presented in. A cohesive theme eases the mind of most patrons, and allows for fluid engagement. Display tables, such as these locking tempered glass cases, play an integral role in servicing your client base. Use for a wide variety of merchandising and gallery-oriented purposes.
Take advantage of the elegant construction of these tables to promote valuable merchandise, collectibles, jewelry, and art. We offer a variety of display cases, each meant to serve a different purpose in your exhibit. Use these tables, and other museum quality fixtures found on our site to create a one-of-a-kind experience for your guest and find to find the perfect displays for your next event. Many units are shipped fully assembled, a great option for curators with tight schedules. Set-up is simple, just unbox and you are ready to go!