Church Podiums — Cross Pulpits & Religious Lecterns for Sale Online
---
---
---
---
---
---
---
---
---
---
---
---
---
Podium Stands — Church Pulpits with Crosses and Religious Symbols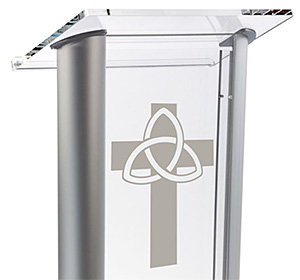 Looking for church podiums for sale? Displays2go offers the largest selection of lecterns and pulpits for religious services and speaking events. Whether you need traditional church podiums or clear acrylic lecture stands for academia, we have you covered. Our speaking stands are versatile and can be used beyond religious services. Plain-designed pulpits are also suitable for banquet presentations and college lectures. Our top-selling styles include cross lecterns for worship services, while plain styles are perfect for schools, boardrooms, stages, and conference halls. No matter the occasion, our impressive collection of church podiums is the ultimate choice for professional speech furniture. On our website, you'll find a wide range of lecterns available in modern and traditional designs, suitable for any house of worship or educational venue. Each of our minister pulpits features a crucifix or other religious symbol on the front, creating a reverent atmosphere for talks and ceremonies. These religious lecterns are commonly used by Christian churches, Jewish temples, Greek Orthodox, and other places of worship. Opting for a design that already includes the necessary spiritual symbol can save you time. While cross pulpits can be customized with specific religious insignia, our speaker stands offer an affordable option. We understand the importance of affordability, especially for churches and non-profit organizations operating on fixed budgets. Choose one of our affordable church podiums and save both time and money in your purchase. Discover the perfect church podium for your needs today!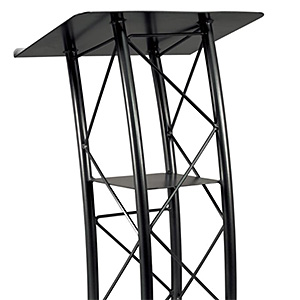 What presentation pulpit designs are available?
Church podiums in light or dark oak wood finishes feature a cross molding that looks elegant in religious and educational settings. These stands add gravitas to sermons and lectures in all manner of settings.
Acrylic lecterns set a decidedly modern tone that puts the emphasis on the speaker while providing an area to attach a stock logo with traditional, Orthodox, Celtic, and other religious emblems.
Acrylic stands come plain, or with steel or wood embellishments and interchangeable panels (with and without religious-oriented graphics) for various occasions.
Truss style and steel lecterns have an industrial appearance that looks great in all manner of modern venues. Popular with religious organizations, this pulpit style works in a wide variety of secular situations as well.
An elegant wood podium or wooden lectern commands a noble presence. Treat presenters to a high-quality wood lecture stand like those found in churches, schools, hotels, and convention centers. A solid wood lectern or wooden veneer stand offers the traditional look and feel favored by corporate presidents, professors and clergy. Stands with laminate finishes are an economical alternative to solid wood models without sacrificing the traditional appearance. Wooden rostrums are available in a variety of styles and sizes to meet every budget and location's needs.
As an experienced acrylic display manufacturer, we possess the expertise, skills, and resources to create top-quality acrylic lecterns at affordable prices. Our range of clear acrylic options includes simple traditional podiums as well as sleek modern "M" designs. These transparent acrylic lecterns create an illusion of spaciousness, making the room appear larger. With our plexiglass pulpits, the focus remains on the presenter, making them ideal for business meetings, motivational speeches, trade show events, and wedding services. An acrylic stand adds a touch of elegance to any stage or lecture space. Trust us to provide the perfect clear acrylic lectern to enhance your presentations.
In addition to our traditional and modern pulpits for religious services, our stage lecterns can be used for all manner of speaking events. Also, it's important that our customers know all of the associated lingo when searching out the proper stands to support a ceremony or talk. Other terms for presentation lecterns include the more formal speaking rostrums that refer to the stage platform itself. When it comes to presentation furniture and pulpit stands of any kind for any event, this trusted website offers a myriad of quality solutions!