Plastic Stanchions with Weighted or Spike Bases for Indoor or Outdoor Use
---
Plastic Post & Chain Barriers Provide Safety & Crowd Control Indoors & Outdoors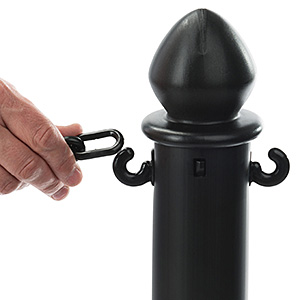 Need to quickly create high visibility barriers in public spaces? Our plastic stanchions, designed for both indoor and outdoor use, are the perfect way to quickly delineate perimeters and accessibility to customers, visitors, and employees. Lightweight acrylic construction and bold colors make this type of portable post and chain barrier an economical safety and crowd control accessory for any business. Elegant design details such as decorative finials combined with clear accessibility messaging allow these temporary bollards to complement business, industrial, restaurant, and sports facilities and environments. High visibility plastic stanchions, frequently used as portable safety post and chain barriers, perform a wide range of functions from attracting attention to handicap access points to marking out valet parking areas or keeping event visitors away from landscaping. These lightweight plastic stanchions offer weighted, fillable bases as well as waterproof construction for safe, durable outdoor use. If you're looking for attention-grabbing, economical crowd control barriers for use as workplace or event accessories, our wide selection is designed to meet the needs of any facility or industry!
What types of portable plastic safety post and chain barriers are available?
Plastic stanchions for crowd control need to function in a wide variety of environments. Our acorn-top decorative finials will match the most exclusive VIP clientele, while ball-top warning posts feature clear messaging for safety and ADA compliance at public facilities and events of all kinds.
Portable, weather-resistant post-and-chain barriers help protect the public as well as employees and staff at outside events. This makes them ideal for guiding crowd flow and managing perimeters and access at golf tournaments, equestrian competitions, concerts, and other outdoor functions.
Temporary bollards help delineate accessible and prohibited outdoor areas. Fillable bases provide stability on solid surfaces while ground spikes allow these versatile barriers to be used on grass, turf, dirt or even sand. This type of facilities safety stanchion with chain rope is great for marking out valet parking areas or preventing attendees from entering prohibited employee areas.
Easily visibile access barriers can form an important part of company compliance with accessibility regulations. Our selection of portable plastic safety posts with high visibility messaging help commercial and industrial environments ensure rules and guidelines are met as well as helping protect visitors, employees, staff by clearly labeling designated areas and access points.
Brightly colored portable stanchions serve many different purposes and are useful in any industry. Decorative, molded finials give an elegant look that can complement any environment, while different base styles support a number of uses. Sturdy, flat bases can be filled with sand or water for maximum stability on solid surfaces but still allow the portable crowd control barrier system to be easily repositioned as needed. For outdoor facilities, ground spike bases supported in sand or grass give the look of traditional perimeter or parking bollards without permanent installation. These high visibility weather resistant stanchions are the one of the most economical ways to create temporary barriers that block access to restricted areas or create perimeter and queue management solutions for businesses of any size.
In addition to these lightweight acrylic post-and-chain sets, Displays2go.com also offers retractable belt safety barriers, designed to provide maximum protection for visitors, customers, and staff in public areas. For everyday use our wide selection of commercial-quality fixtures and displays includes a full range of standard post-and-rope and post-and-tape crowd control systems, queue solutions and accessories designed to match the needs of any business, facility, or organization.