Mini Retractable Crowd Belts for Museums & Car Displays
---
Mini Retractable Stanchions for Museums Displays - Stainless Steel & Polished Chrome
If you are looking for the features and beautiful design of regular stanchions, but want a shorter version so that your display is not obstructed mini retractable stanchions are what you need. Our stainless steel crowd controls are perfect for car displays, museums, and art galleries where you might not what people touching the exhibit piece.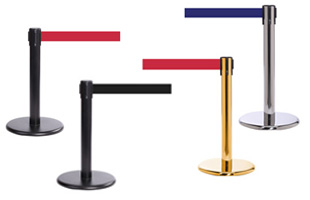 The queue poles are available in different colors and finishes such as brass gold and stainless steel silver. The gallery queue solution comes complete with a retractable belt for maximum crowd control. The belts are also available in different colors such as black red and blue. The retracting stanchion belts include an integrated belt lock to prevent tampering or injury from retracting belt systems. The retractable belt systems are socket mounted making it simple to switch out different length and colored belts.
The fact that they are smaller means that these small stanchions are lighter and easier to transport from one location to another. Each mini crowd control pole comes with a full coverage floor protector, low profile cast iron base and slow retractable brake. See which short stanchions fits your exhibit or display decor and purchase them today!