Digital Signage Displays for Video Advertising, Merchandising, Wayfinding & Entertainment
---
Freestanding Digital Signage — Kiosks with Touch and Video Capabilities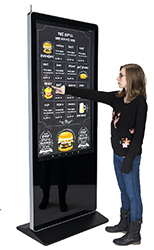 Would you like to take your advertising to the next level so you can really engage your customers? Our digital signage displays expand the reach and impact of your branding. Whether you're displaying goods at a trade show or providing wayfinding info in a mall, these cutting edge advertising fixtures combine form and function to make it memorable. Each of our digital signage displays features a plug & play design that makes it easy to feature your content on the fly. Our floor-standing electronic signs are offered in a variety of sizes and configurations for any commercial purpose. We even have digital signage displays that are portable and fit in a bag, perfect for trunk shows, as well as more massive units for use in malls, sports arenas and office lobbies.
What types of commercial screen stands are available?
Digital signage displays with large monitors are excellent for grabbing attention from a distance. This includes HD and 4K TV fixtures as well as touchscreen kiosks that are great for serving customers. Feature your messages with a larger-than-life advertising screen to make sure it's not missed!
Portable electronic signs make it easy to bring your videos and interactive content to trade shows and other events. This is a great option for companies that prioritize their promotional media. Make sure everyone gets to see your video content!
Merchandise stands with built-in screens are ideal for getting customers' attention in retail. Draw people to award-winning foods, cutting-edge devices, and new lines of clothing. Audiovisual advertising campaigns are perfect for getting people to notice new brands and merchandise.
Digital displays create a great alternative to conventional forms of marketing. Animated messaging will catch the eye more effectively than traditional static ads. While the initial cost is high, your savings on printing will add up quick! Best of all, our signage displays are simply more engaging and memorable than a piece of poster board.
How do our media players function?
The software bundled with our digital displays feature plug & play technology. This allows users to put their content on a USB drive or SD card, connect to to the sign, and immediately feature it on the monitor.
Control the way media plays with the included remote control or the displays' touchscreen and Android interface. Our electronic marketing devices are made for ease of use and compatibility with different styles of promotion.
Show videos or feature images in slideshows. Use apps for customer interaction, whether it's a menu or form to be filled out. Customize your content for your audience and your organization's goals!
These electronic display stands are commercial-grade, making them great for sports arenas, travel agencies, malls, shopping plazas and public venues. Stream live TV, advertising videos, and interactive journeys with these marketing kiosks. Browse promotional floor stands with wheels, shelves, adjustable brackets, and folding frames for the perfect solution to your mission.