Athletic Mannequins Showcase Male and Female Active Wear
---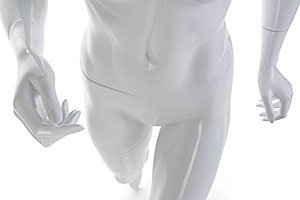 Sport Mannequins Feature Athletic and Dance/Yoga Poses
When it comes to selling activewear, it pays to portray it in an energetic fashion. Let these athletic mannequins show customers how your merchandise looks in action! Featuring a number of poses in various sporting endeavors, our contemporary body forms showcase clothing for those living the active lifestyle. Standard day-to-day apparel is usually seen stacked on tables or hung on hangers. Sportswear is form-fitting and designed to work with the body in any position. Athletic mannequins provide customers with this necessary information. Display in sporting goods shops, specialty dance or yoga boutiques, or department stores for showing off the newest product lines. Or implement them in a different way inside gyms, spas, or meditation centers as tools for gaining new members. Either way, this collection of athletic mannequins offers a dynamic take on the traditional window/store display figure.
What are some of the great features these posed body forms have to offer?
Our athletic mannequins are manufactured from fiberglass with matte or glossy finishes. All standing models attach to bases for stability, while the seated positions don't even need one. These come in tempered safety glass or steel with polished chrome finish. The legs, arms, and hands all detach to allow easier staging.
Running models display in mid-stride, ready to showcase the latest activewear for men or women. Add a pair of cross-training shoes to complete the look! Yoga figures are very popular and come in various poses such as the standing Tree or the seated OM. Motion that is frozen in time increases the attention given it. This is why these athletic positions provide a compelling and effective means of marketing.
When portraying an active lifestyle is as important as it is today, encouraging people to get moving is paramount. The benefits are great. As a sports/workout clothing retailer, you have the opportunity to influence customers for all the right reasons. Instead of featuring only one item on a mannequin, offer customers a complete workout solution. Show them what your merchandise can do for them. Well-outfitted body forms are designed to grab their attention and to help them see themselves doing the same activity. Inspire customers to exercise and get in shape while they take in these action body forms!