10' x 10' Trade Show Displays - Standard Sized Booth Setups for A Successful Exhibit
---
10x10 Trade Show Kits and Backdrops for Conventions & Expos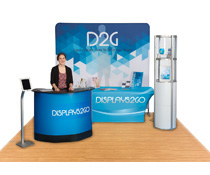 At a convention or expo event, it's easy to get lost in a sea of exhibitors and have a hard time presenting yourself effectively to passersby. With our 10' x 10' trade show displays, you'll find many customized booth options to promote your brand. Many of our exhibit pieces have large backdrops and banner stands that can be personalized with a colorful graphic of a company logo or slogan. These 10' x 10' trade show displays will take your business to the next level. Whether it's getting more visibility for your company or gaining more credibility, having an appealing 10' x 10' trade show display at your event will give you a powerful platform for meeting new prospective customers and networking with other companies.
What exhibit pieces can be featured within a standard convention booth?
When it comes to 10' x 10' trade show displays, it's important to have a bright and eye-catching presentation. That's why we have various backwalls and backdrops available to you that can be fully customized with artwork that you provide. We have a variety of printing options like Ultra-violet, full-color, or one to two color imprinting. Choose from curved backgrounds or pop-up booths of all shapes and sizes. For a more commanding demonstration, choose a truss display with a bright backdrop to catch the eye of passersby or a large tent with custom graphics.
In a digital world, it's imperative for exhibitors to present themselves effectively using electronics. We have LED television stands for displaying signage, videos, product tutorials, and PowerPoint presentations. Some units have wheels for easy mobility from place to place and others are stationary allowing for a stable display. iPad and tablet stands are also available to enhance your digital presentation. The stands are freestanding and lockable - so exhibitors don't have to worry about their device being stolen or tampered with. This design is secure while allowing visitors to engage with your content. Tablet stands are great for lead acquisition and sign ups for your marketing emails.
Tables or counters are essential for displaying merchandise or engaging with potential customers or clients. Even more effective when branded with your logo! With these, exhibitors are also able to conduct product presentations and business transactions. Many of our portable counters have hook-and-loop receptive fabric for displaying signage or graphics or can be completely customized with your logo.These countertops come in many shapes and sizes - some even have an attached iPad holder. Large 6' folding tables are available for those who need more space. Pub-style table and chair sets are also a great addition to any booth. Configure your exhibit with furniture to create a space for visitors to relax, network with others, and conduct product demonstrations.
When it comes to adding extra signage to your demonstration, retractable banner stands are the way to go. These units can be fully customized to promote your business and your brand message. Having bright and vibrant graphics visible is an effective way to gain more visitors and foot traffic to your booth. Plus, they're super portable!
Various styles of literature holders are offered on our site to assist in the distribution of informative pamphlets, magazines, and brochures - some even contain a custom graphic to catch the attention of visitors.
Other miscellaneous booth pieces include 10' x 10' interlocking flooring to complete your exhibit. These tiles are easy on the feet of the exhibitor and their visitors. LED lighting is available to illuminate your exhibit or specific pieces within it.
Most of our all-in-one standard convention kits come equipped with hard-shell carrying cases. Many of these containers can convert to a podium. This can be helpful if you are someone who conducts multiple presentations and needs a commanding space. Use these make-shift podiums as an extra surface to showcase products, merchandise, or conducting business transactions as well.
A portable convention display doesn't have to look makeshift. At Displays2go we take pride in providing you with high-quality pieces for your exhibit while staying within standard trade show booth regulations. We know it can be intimidating and sometimes difficult to take a small, 10' x 10' space and transform it into an eye-catching brand presentation. With our products, we know you'll stand out in the sea of competitors and promote yourself effectively. Shop online to take advantage of quick shipping and low prices. Let Displays2go help promote your brand and enhance your convention exhibit!