Waiting Room Office Chairs in Molded Plastic & Padded Fabric & Vinyl
---
Waiting Room Lobby Chairs — Molded Plastic and Upholstered Reception Furniture
How can you make a great first impression with your customers? At Displays2go, we recommend furnishing lobbies, greeting areas, and front rooms - the first point of contact with customers - with comfortable guest seating. Our lobby chairs waiting room offerings come in a range of modern styles. Our line of reception furniture includes upholstered chairs with wooden bases. We also have smooth, molded plastic guest seating, ideal for a minimalist approach. It helps when each chair, sofa, and loveseat has an ergonomic design to support your guests with a healthy seating position. When your lobby chairs waiting room seats are comfortable and attractive, it shows customers you care. Quality guest seating inspires client confidence in your services and expertise. Our lobby chairs waiting room furniture blends style with function and puts an affordable price tag on it. Providing the proper seating area is important, whether your clients are a young couple buying their first home, or a patient waiting to see a doctor.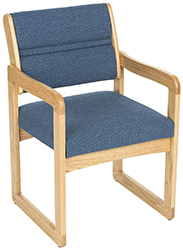 What types of businesses use guest seating to create a connection with customers?
Lobby chairs waiting room fixtures are used in physicians' and dentists' offices, rehabilitation centers, and hospitals. Padded stain-resistant linen or textured fabric, and durable vinyl are rugged materials that withstand repeated use.
Guests should always be comfortable at your place of business. It's even more important when they have to wait a while. Car dealerships will often set out coffee for guests waiting for repairs or financing decisions. Check out some great ideas for creating a fun waiting room experience.
Funeral homes will often choose muted pastel or neutral tones and padded furniture to foster a calm environment for their clients while they plan memorial services.
Real estate agencies and banks are places where people do a lot of sitting, waiting, and reviewing paperwork. Presenting your clients with comfy guest seating reduces the stress of signing a million forms.
Make a statement at an advertising or marketing agency by introducing iconic, architecturally inspired Eames-style chairs with molded plastic seats into an office front room or greeting foyer. This mid-Century modern guest seating for sale doesn't have to sacrifice comfort for style - it offers both. Don't miss molded plastic office chairs in trendy hues like "clear" and "smoke"!
This upholstered seating features a roomy padded seat and back with a sturdy oak frame and armrests. This contemporary classic is available in fabric or in vinyl. Popular in physicians' offices, rehabilitation centers and hospitals, these chairs support up to 400 lbs. We also offer stain-resistant upholstered reception chairs that are also flame-retardant.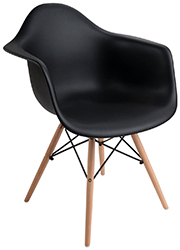 Our Eames-style chairs with molded seats also score high on the comfort meter. Architecturally-inspired seating with an "Eiffel" wood-and-wire-base has been a hit since it came onto the scene in the 1950s. This mid-century modern design, inspired by the iconic Paris tower, takes up a small footprint in tight offices, lobbies, and front rooms. Choose a style with shallow arm-rests for maximum comfort. Armless versions with an all-metal frame lend an industrial feel to office decor.
Need extra seats for when a larger than usual crowd is expected? Banks often have ribbon-cutting events, and professional offices conduct meetings and presentations, throw retirement parties, and host holiday gatherings. Having stackable chairs on hand in molded plastic with a small footprint makes it easy to put these events together on short notice. Stacked seating is lightweight and easy to move - but by no means flimsy, and it's easy to tuck out of sight when not in use.
Don't just let visitors sign a guest book and seat themselves - welcome them with an inviting greeting space! Once you select a chair style, you'll probably be inspired to update the rest of your decor. Visit our website for padded and plastic seating that combines function and style at an affordable price. Most of our chairs arrive assembled and ready to go. Shop Displays2go for complementary sofas, loveseats, ottomans and benches to create a cohesive reception area that tells customers they're important - and that you'll serve them well.