Reusable Temporary Retail Decals - Repositionable Flooring Stickers
---
Reusable Stick On Floor Decals for Seasonal Commercial Displays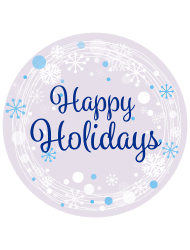 Want to cover your store from wall to wall with holiday messages? These reusable temporary retail decals are excellent for adding seasonal cheer to the floor and walkways of any establishment. The graphics have versatile designs that are great for any industry - display them in stores, restaurants, hotels, schools, and service businesses. Reusable temporary retail decals for floors are ideal for companies that want to feature images but have a limited space for new graphics. Our temporary flooring signs are made for years of use but they can be removed when the season is over, and reused again while maintaining the same appearance. Their residue-free adhesive ensures that there are no unsightly spots left behind when removed. Browse our reusable temporary retail decals for the right signage for your needs.
What makes these floor signs perfect for the holiday season?
Each reusable temporary retail decal features a welcoming graphic and friendly festive message. Whether you want to say "Merry Christmas," "Happy Chanukkah," or "Big Holiday Sale", we have the graphics for you. Choose from our selection of vibrant designs to celebrate the season as well as Black Friday sales. Available themes include modern blue and white, traditional red and green and bold "chalkboard" — black with colorful images.
Adhesive retail decals for floors are ideal for adding seasonal signage to establishments in the commercial, hospitality, and service industries. These textured flooring signs are hard wearing — they'll look professional even in high traffic environments. Low adhesive allows the retail decals to adhere to a variety of indoor & outdoor flooring, including concrete and low pile carpet, but means they are easily removed as needed when the holiday season ends. Our signage will give patrons firm footing while featuring eye-catching graphics.
Use these floor decals to feature festive signage in your establishment, whether it's a school, car dealership, or event venue. They're not just useful for interiors that have run out of wall space, these areas offer high visibility. Holiday stickers featured on your front walk will greet visitors before they enter, starting their experience on a positive note the moment it begins. Floor decals are hard to miss when they're placed in the middle of open areas and by the point of purchase. Add some holiday cheer to your business with this versatile signage offered with fast shipping and wholesale pricing!