10x20 Trade Show Booth Displays - Portable Exhibit Fixtures for Commercial Events
---
Displays, Backdrops and Accessories for 10x20 Trade Show Booths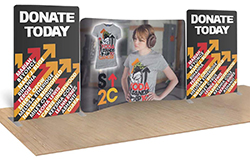 Looking to create a successful presentation at a commercial event? These 10x20 trade show booth displays include graphics, counters, and other accessories. Two hundred square feet may seem like a lot, but there's only so much space for fitting your promotional showcase. Our 10x20 trade show booth displays feature a number of fixtures and accessories that will attract attendees and increase interest in your brand. These all-in-one kits combine large banner displays to feature your messaging with areas to show your products and services the way you want them to be seen. Browse our wide selection 10x20 trade show booth displays, each with a different design to accommodate business' varying needs.
What types of promotional accessories are included in these kits?
The 10x20 trade show booth displays include large backdrops that can feature company logos, branding, and messaging. We offer custom graphic printing on these banners to create full color images.
Many commercial event kits come with ample countertop space for featuring product samples and literature. Showcase your merchandise and services to passersby with raised tabletops to ensure that your work is recognized.
Trade show booth displays with included lightning are sure to increase visibility at busy expos. Shine a light on your large format graphics with LED or halogen bulbs and give extra attention to your promotional presentation.
Exhibit backdrops can be the most important part of your event setup because they create a strong first impression. A large banner stand is excellent for creating a larger-than-life impression on passersby. Most of our packages with a backdrop include custom printing, recreating your branding in full color. Our printers can produce vivid graphics to represent your advertising, whether it consists of vector images or photorealistic artwork. The banner stands are offered in different shapes to fit different spaces — browse backdrops with eye-catching curved designs, L-shaped enclosures as well as traditional single-panel landscapes.
What makes these commercial event kits great for representing your business?
Trade show booth displays are specifically geared for the size you have. If you've reserved two standard 10" x 10" spaces, these 20" x 10" packages will fit your needs perfectly.
Each accessory kit comes with carrying cases and canvas bags to make transportation to and from events a breeze. Easily portable supplies are important for exhibitors that want to arrive on time.
Booth display kits are priced more affordably compared to buying each piece separately. Save money by finding a package that suits all of your needs.
While all of these items are cheaper when bought together, sometimes you need more counter or branding space. Browse our large selection of trade show accessories for literature dispensers, graphic holders and other promotional tools. Put down comfortable flooring for hard working employees. Feature attention-grabbing electronic displays to gain more attendees. Create the perfect booth with Displays2go today!