Commercial Floor Stickers Adhere to Hard Surfaces and Low-Pile Carpets
---
Commercial Floor Stickers are the Secret Advertising Weapon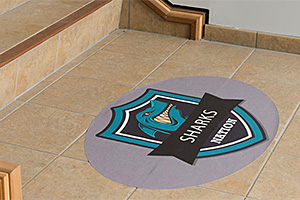 Why would anyone want to buy graphics that get walked on?
They cannot be overlooked.
That maxim is based purely on human behavior. Commercial floor stickers have a surprising advantage over traditional wall-mounted advertising. The point can be made that many of us never even look at signs and posters. We have become desensitized without even knowing it. As a result, commercial floor stickers take the road less traveled, so to speak. Psychology tells us we pay more attention to where our feet go than to objects above eye level (probably something to do with not wanting to trip up and fall). From a marketing and advertising perspective, this sounds like the greatest thing ever. Since our eyes spend more time looking down, the odds are more likely we pay attention to it. Floor graphics, therefore, have the ability to influence visitors or consumers in a most unprecedented way.
Advertising — If you operate a brick and mortar store, chances are your customers enter through the front door more than once. While they may totally avoid the poster hanging on the wall, their eyes always gravitate to the printed floor decal strategically located inside the entrance. This overlooked advertising real estate should be put to good use! Display your company logo with a tagline to help reinforce your brand. Utilize floor graphics that take full advantage of more subliminal marketing tactics designed to target the consumer. The more appealing the graphic, the more it will be impossible to ignore.
Promoting — Whether used by retailers or trade show exhibitors, vinyl decals offer a way to welcome the visitor before a salesperson can. Announce a grand opening or a clearance sales push. Seasonal and holiday promotions are another consumer-friendly strategy. Use this chance to reach out and connect with the customer in a meaningful way. Perhaps they walked into your booth or store not knowing what specific item they would be buying. Harness the power of persuasion!
Wayfinding — Another way to use these adhesive stickers is to help direct people. An easy-to-read graphic works wonders in places they are not familiar with. Just launched a new product but your store has over 20 aisles? Lead the shopper to the water by pointing them in the right direction. Use arrows, aisle numbers, or some other visual convention designed to get the consumer in front of your merchandise. This not only increases the chance of a sale but also makes for a more pleasant shopping experience.
Warning — Ensuring a safe working environment is a big deal. There are established agencies designed to regulate occupational safety hazards. Signage plays a major role in protecting employees from harm, and floor graphics are right up there in importance. These come in the form of warnings, exit signs, fire extinguisher designations, and so forth. If there ever was a more important use of signage that cannot be overlooked, floor decals can handle the job.
These stickers can be used indoors or out. Stick onto hardwood floors, concrete, low-pile carpeting, and much more! All decals feature textured non-slip vinyl surfaces and are designed to last up to 3 months. We offer a large variety of stock graphics as well as seasonal and holiday decals. Some models have customizable areas within the stock image — others are 100% custom. Send us your artwork and we will print your graphics on our flatbed UV printer with weather-resistant ink in high resolution.
Vinyl floor decals are nothing new, but neither are they used in the same numbers as traditional wall signs and posters. We suggest trying one or two models for your next advertising campaign. They'll add a splash of color to your floors while promoting your business most effectively!