Vinyl Floor Decals with Safety Messaging or Retail Advertising Graphics
---
Removable Floor Stickers for Advertising or Displaying Wayfinding Messages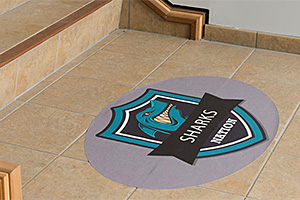 Are you looking for a simple and effective way to deliver your safety message or put promotional content in front of customers? Our vinyl floor decals are simple peel and stick graphics that make a huge impact with visitors simply by going outside their expectations. It's all too easy to ignore wall or ceiling signage without meaning to if only because it's so ubiquitous. That can be dangerous if the message is about a fire exit, directional arrow, or work zone. Safety vinyl floor decals are great for warning new visitors and regulars alike of changes to building protocols or potential hazards. Of course, custom printed floor clings for advertising work the same way, engaging customers in a way they don't expect. This can make them more receptive to promotional campaigns that they might overlook otherwise. Choose from a variety of stock graphics, like social distancing vinyl floor decals, directional arrows, fire exit markers, and do not enter signs to ensure that proper procedures are followed while in your facility. If we don't offer the exact message you're looking for, design your own using our online tool!
How can I use vinyl floor decals in my business?
Advertising — If you operate a brick-and-mortar store, chances are your customers enter through the front door more than once. While they may totally avoid the poster hanging on the wall, their eyes always gravitate to the custom floor decal strategically located inside the entrance. This overlooked advertising real estate should be put to good use! Display your company logo with a tagline to help reinforce your brand. Utilize floor graphics that take full advantage of more subliminal marketing tactics designed to target the consumer. The more appealing the graphic, the more it will be impossible to ignore.
Promoting — Whether used by retailers or trade show exhibitors, removable floor decals offer a way to welcome the visitor before a salesperson can. Announce a grand opening or a clearance sales push. Seasonal and holiday promotions are another consumer-friendly strategy. Use this chance to reach out and connect with the customer in a meaningful way. Perhaps they walked into your booth or store not knowing what specific item they would be buying. Harness the power of persuasion!
Wayfinding — Another way to use these adhesive stickers is to help direct people. An easy-to-read graphic works wonders in places they are not familiar with. Just launched a new product but your store has over 20 aisles? Lead the shopper to the water with directional decals. Use arrows, aisle numbers, or some other visual convention designed to get the consumer in front of your merchandise. This not only increases the chance of a sale but also makes for a more pleasant shopping experience.
Warning — Ensuring a safe working environment is a big deal. There are established agencies designed to regulate occupational safety hazards. Signage plays a major role in protecting employees from harm, and floor graphics are right up there in importance. These come in the form of warnings, exit signs, fire extinguisher designations, and so forth. If there ever was a more important use of signage that cannot be overlooked, stock printed floor clings can handle the job.
These temporary floor stickers can be used indoors or out. Apply to hardwood floors, concrete, low-pile carpeting, and much more! All decals feature textured non-slip vinyl surfaces and are designed to last up to 3 months. In addition to reusable signage, your facility may need physical barriers to keep visitors and employees safe, making workplace safety tools with high-visibility paint a must-have. Combine brightly colored stanchions and pedestrian barricades with a peel and stick graphic that warns those passing through your warehouse to be careful. Commercial floor clings are nothing new, but neither are they used in the same numbers as traditional wall signs and posters. We suggest trying one or two custom printed decals for your next advertising campaign. They'll add a splash of color to your floors while promoting your business most effectively!
How to Install Floor Decals