Sign and Poster Printing Service on Rigid Boards, Vinyl, Film, Paper, and More!
---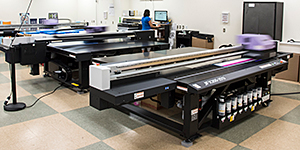 High-Impact Custom Printed Graphics with Quick Turnaround
Every business needs effective signage that communicates with consumers. By using Displays2go's online sign and poster printing service, you can achieve this without driving to a local sign shop. Looking for a particular type of film or substrate? We offer the most popular sign-making materials designed to provide the best visual impact. Extend the reach of your brand, push a sales promotion, or advertise new products or services. Our sign and poster printing department comprises state-of-the-art machines like UV flatbed and solvent ink printers. From block-out banner vinyl to Foam-Cor® signboards, we've got the materials for creating professional-quality signage! It's all about capturing customer attention. Displays2go can do it affordably and without hassle. Whatever your industry, we deliver custom graphics in days, not weeks. Read on to learn about what online digital printing can do for your business, indoors or out!
What kinds of sign and poster printing services are available?
Satin photo paper is printed using permanent inks for durability and water-resistance. It's our go-to choice for marketing tools like retail posters. Snap-open picture frames showcase prints and graphics with convenient front-loading capabilities.
Coroplast® corrugated plastic boards are very cost-effective signage for outdoor applications, popular with realtors, landscapers, and political elections.
Foam-Cor® boards are designed for indoor use. These feature smooth surfaces that take UV-cured inks beautifully.
Backlit film for illuminated light boxes achieves vibrant colors and deep, rich blacks for movie posters or retail ads.
Vinyl banners prove their worth by their ability to be hung in ways traditional picture framing cannot. We print these with solvent inks and include grommets to make installation a breeze.
Window clings are great advertisers during temporary promotions. The clear film sticks to glass and is repositionable.
Floor decals feature textured surfaces to prevent slipping while walking over them. These are usually placed at storefront entrances right after customers enter through the door.
Acrylic signs come with UV printed graphics applied second surface, or on the reverse side of the acrylic panels. This technique not only helps protect the image, but it also offers a shiny, polished presentation.
Displays2go's printing service is a natural extension of who we are. Initially starting as a stock display company, we've evolved into a multi-faceted POP manufacturer. Our mission is to connect people and businesses with the world by providing the best variety of brand-enhancing products. For every project, there is a solution. Let Displays2go guide your choices in the right direction with our massive online catalog of personalized solutions!