Foam Seating Cubes for Contemporary Interiors
---
Use Cushioned Squares and Footstools Individually or Grouped Together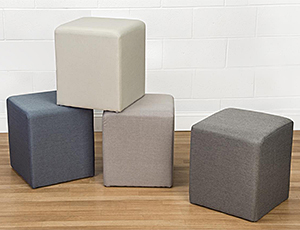 Furnishing an interior space opens up all sorts of possibilities with endless choices. But, if something "casual" is what you're leaning towards, we have a solution. Foam seating cubes offer practicality with functional comfort. In fact, these softly upholstered squares are so versatile you'll wonder why you were ever without them! Take into account their geometric shape. Foam seating cubes feature the simplest of forms, yet offer the most in all-around adaptability. Short on chairs? Pull up a square stool! Their versatility allows them to be tucked under tables, along walls, and into corners. Placing foam seating cubes in groups is another idea. Or, use them as table accessories next to chairs. Whatever you envision, these cushioned cubes are a must for professional and contemporary interiors.
What are the main selling points of these soft square seats?
Foam seating cubes, unlike rounded mushroom-shaped poufs, feature rigid construction for retaining their shape.
Square ottoman-style seats are manufactured with durable wood frames made from plywood. They're so strong they come with a weight capacity of 400 lbs.
Upholstered seating cubes are covered with stain-resistant and fire-retardant polyester fabric on top of 2cm of foam padding for maximum comfort.
Neutral, muted slipcover fabric shades are better suited for business interiors, as they complement almost every branding or color scheme.
Each ottoman-style stool has four plastic feet that allow you to slide the square stools effortlessly, even across carpeting.
Here at Displays2go, we've incorporated numerous square stools throughout our offices. Open seating arrangements are very conducive to impromptu gatherings or small meetings. For example, when a supervisor needs to converse with a team member, pulling a cube up to their desk is much easier than dragging in a full-size chair. Place stools around individually or group them together into a coffee table-type configuration. Thanks to their modular dimensions, the number of possible layouts is boundless. Casual seating in other applications often provides the same convenience. Place a couple seats in libraries or bookstores for temporary readers. Lounges, museums, and showrooms are other great prospects. What to remember is, these cubes aren't designed for long-term sitting. Waiting room furniture requires arms and backrests. If your interior application is intended for more temporary sitting, consider these soft, upholstered seats. They'll help take a load off your feet!