Custom Printed Outdoor Metal Swinger Signs Enhance Storefront Advertising
---
Outdoor Custom Printed Swinger Signage for Wayfinding or Storefront Promotions
Looking to enhance the curbside advertising efforts at your establishment? Custom printed outdoor metal swinger signs give your location a larger promotional presence. This freestanding signage is heavy-duty to withstand the exposure of outside elements like wind, sun, or rain. Each custom printed outdoor metal swinger sign has an aluminum composite panel printed with the artwork you send us. This signage gives you the option to express upcoming sales, menus, store information, and wayfinding material to possible patrons walking by. An outdoor metal swinger sign is a simple yet effective way to improve the curb appeal and advertising efforts of your business.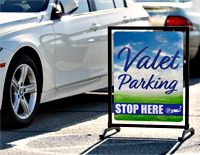 What are some of the key features of this sidewalk signage?
Each custom printed outdoor metal swinger sign replicates your artwork using the UV printing process. This features full-color, photographic-quality reproductions that are printed on both sides of the aluminum composite panel. UV-printed graphics are fade-resistant and hard-wearing. Therefore, this printing process is very appealing for use on outdoor, high-resolution signage.
Neutral frame shades of black and silver are available — finishes that will complement any outdoor location. Choose from media sizes of 22" x 28", 24" x 36", and 30" x 40".
Wondering why this signage "swings"? Each unit has a T-base frame with ring-hook attachments. The hooks allow the panel with your personal artwork to suspend in the air and sway in the breeze for an attractive and modern looking display.
Each freestanding display is double-sided for maximum visibility. This allows passersby from either direction to view the promotional or wayfinding material.
Curbside advertising can be a pivotal part of the success of your business. It could be the deciding factor of whether someone enters your establishment or walks right past it. Crafting effective sandwich board messages is essential — be interesting and be different! Being able to upload your own artwork and design your own signage will give you a leg-up on your competition. Send us your vision today at Displays2go and we'll do what it takes to ensure the final product is exactly what you envisioned!