Plain Tablecloths for Trade Shows, Events, & Corporate Functions
---
Stock Tablecloths and Runners in Many Different Styles for Trade Shows and Events
Looking to outfit tabletops at a function with neutral linens? Our large selection of plain tablecloths is filled with options to suit any event. Sometimes extra customization isn't necessary and stock linens are required. This can be any circumstance from a baby shower, graduation, or a memorial service. Corporate luncheons and gatherings are also well suited for plain tablecloths in solid colors. These stock linens are available in a variety of colors and sizes as well, to complement any setting's décor. Browse through our catalog of standard and fitted plain tablecloths to find what's best suited for your needs.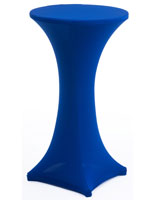 What types of solid color tabletop linens are available?
Plain tablecloths come in traditional styles — your standard tablecloth. Available in both economy and deluxe styles, there's an option for any budget. These throws also have 3-sided options, fitted styles, and toppers. Traditional throws are "traditional" for a reason, they never go out of style.
Stretch/fitted throws are available for rectangular and round tabletops, including highboy counters. These stretch linens also come with 3-sided options, which are great for extra legroom or have access to storage underneath. Fitted throws like these have a sleek appearance and make a more modern presentation.
Convertible tabletop linens are the best of both worlds. These linens can transform to fit two different sized tabletops, depending on what size you order. We have styles to fit 4' and 6' units and ones to fit 6' and 8' models. Convertible throws come in handy when you might be traveling to and from trade shows and you aren't informed of the exact tabletop size for your booth.
Runners are a great way to add a decorative touch to your current linens. This looks best using contrasting colors. You can use a neutral shade on top of bright throws or do the opposite and use a vibrant runner to jazz up a bland table cover. Our selection has thinner runners and more wide ones, depending on your preference.
Banquet style linens, runners, and skirts have a more pleated appearance. These are often used for upscale events, dinners, and corporate functions. We have style options to fit both rectangular and round tabletops along with an array of color choices.
Choose stock linens for almost any event! Displays2go makes it easy to order linens in bulk as well. These throws are all made with high-quality materials, so you can have peace of mind that any piece you receive is one that will hold up for years at trade shows or other functions like ceremonies or corporate luncheons. Our linens are even flame retardant to comply with standard facility fire safety requirements and are machine washable/dryable. If you're looking to personalize a table cover, custom printed tablecloth options with dye sublimation and 1-color vinyl printing are available on our site. Choose Displays2go for your table cover needs and take advantage of our quick shipping and low prices!