Table Runners with 1-Color Printing for Trade Shows and Events
---
Customized Tabletop Runners with 1-Color Vinyl Imprinting
Looking for a substitute to the standard tablecloth? Table runners with 1-color printing are a great option for businesses looking to use tabletops to advertise their brand. Why use full length linens by themselves when you can dress them up with a contrasting tablecloth for extra flair? Table runners with 1-color imprinting are ideal for showcasing logos, typography, and vector images at trade shows and events. The included printing will be vibrant and bold, getting passersby to notice you. These linens excel at featuring branding anywhere from small corporate gatherings to extravagant ceremonies — and everything in between. Our table runners come in a variety of sizes, colors, and styles to match any exhibition or banquet. Browse through our catalog of tabletop linens to find one best suited for you.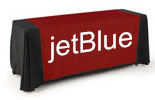 What are some benefits of using customized booth runners?
Table runners with 1-color printing are a great alternative to standard tablecloths, and they're most cost-effective. Traditional linens can cost an upwards of hundreds of dollars fully customized, while runners are more affordable — especially to those with tight trade show budgets.
These linens are lightweight, low-key, and versatile making them perfect for any event setting — they can be used essentially anywhere. Dress them up or dress them down, you decide! Regardless if they're used by themselves or in conjunction with other linens, they'll be sure to make an impact at any trade show.
The one-color imprinting allows for the simple reproduction of logos, emblems, and slogans. The bold vinyl printing will make your artwork stand out, especially basic vector graphics and typography.
Each linen is made from heavy-duty polyester — great for the constant traveler or trade show attendee. It's machine washable and dries wrinkle free, which is a nice perk if you're someone who doesn't have time to iron (or maybe doesn't like to do it)! Just unpack and present for a crisp display.
Displays2go has tabletop runners for furnishing any trade show or event. Send us your artwork and we'll do the rest to ensure the finished product is everything you pictured. Looking for linens custom printed in full color? Dye sublimation table runners are also available on our site. Shop online at Displays2go for quick shipping and low prices.