Whiteboard Accessories for Dry Erase & Wet Erase Boards
---
Must-Haves and Necessities for Your Writing Board
When it comes to essentials, a few things come to mind when you think about what you need for your writing board. Look no further! We have a large variety of whiteboard accessories to choose from in our catalog. Marker boards are essential in locations like classrooms, conference rooms, and office spaces for collaborating, presentations, note-taking, and so much more — it's important you have all the tools needed for success. With our whiteboard accessories, you'll have the best of the best. Choose from a variety of fittings for your writing board and buy in bulk to save even more money. Browse our selection of whiteboard accessories to find the extras best suited for your needs.
What types of writing board additions are available?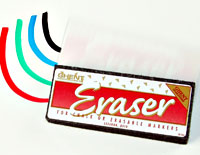 Whiteboard accessories like magnets are essential when you need to hang memos, graphics, and more. These are heavy-duty, constructed from strong neodymium covered by a plastic cap to make displaying notes easy — you won't have to worry about anything falling! These black magnets come in a set of 6, allowing users to display lots of valuable information, charts, and graphics in conjunction with using their write-on board.
It's kind of hard to utilize a writing board without some markers! We have these in a variety of colors and styles — both wet and dry erase. Choose from standard shades or opt for more exotic choices like neon and brighter colors that have a chalk-like finish. All our markers can be removed with either an eraser or a wet paper towel, making them a smart choice for everyday use for classrooms and office environments.
If you're looking for the complete package, choose our marker sets. This bundle comes with four color choices and a felt eraser, so users have everything they need to accompany their write-on board. These markers don't leave ghosting or streaks on your board, and the markers have a chiseled point for fine or bold lines.
A write-on board is only as good as the accessories you have with it! Our selection of magnets, markers, and erasers are must-haves for your classroom, conference room, or office. We have a wide selection of magnetic-receptive writing boards for commercial environments to use in conjunction with our whiteboard necessities. Shop online at Displays2go for quick shipping and low prices!