Seasonal Promo Flags for More Festive Outdoor Advertising
---
Themed Promotional Flags Entice Holiday Shoppers With A Call To Action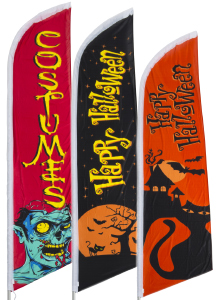 What's an affordable way to advertise outside your place of business during the busy shopping season? Our collection of seasonal promo flags will help with encouraging a festive atmosphere — and do it at a very attractive price. Display vibrant, full-color graphics that attract the eye with windward movement. Seasonal promo flags for outdoors are an integral part of any advertising campaign. Preparation is key, so we recommend being a step ahead of the competition by purchasing well in advance of the encroaching shopping season. What's more, seasonal promo flags for marketing can be used again and again, year after year. Priced around the $50 level, how's that for added value?
What kinds of themed holiday banners do we have to offer?
Halloween seasonal promo feather flags feature the traditional black and orange color combination. Graphics portray cats, bats, jack 'o' lanterns, and zombies, respectively. We even include creepy text to get shoppers stoked for the nighttime event. Whether you are selling pumpkins for carving or costumes for kids and adults alike, we've got a style that's perfect for advertising.
Christmas promo flags are available in two types. Straight-sided models are what we call feathers, and the rounded banners are teardrops. Both come with ground stakes that allow them to move freely with the wind. Graphics-wise, we offer many cheerful and attractive designs to help get shoppers in the holiday spirit. Messages like "Happy Holidays" and "Merry Christmas" are available, including a few that point attention to a specific sale such as Black Friday.
As noted, all displays are designed for ground insertion. Each purchase comes with everything you need to assemble and plant a flag. They also come with a convenient carrying/storage bag. This is important since these outdoor banners are only used for a short time and you'll want to be able to store and protect them for future use. However, during the busy shopping season, your goal is to make people stop and browse through your store. Place strategically in order to grab the attention of passersby and motorists. Thanks to their tall heights, the banners will be seen from afar and that's exactly what you want. Looking for more holiday marketing ideas? Seasonal advertising displays with stock, over-the-counter designs take the stress out of decorating. We offer a sizeable collection of display products geared to prepping your store for the upcoming holiday season.