Holiday Bollard Covers Help Decorate for the Christmas Season
---
Seasonal Fabric Wraps for Parking Posts Add Holiday Decoration to Storefronts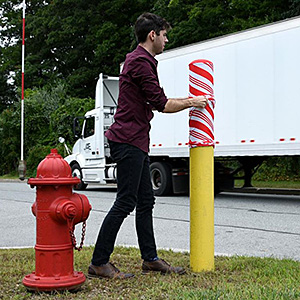 Bollards — we see them almost every day — steel poles filled with concrete designed to protect commercial business from vehicular traffic. What store owners may not realize is there's the potential to create something from nothing. Holiday bollard covers add whimsy and decoration to existing post guards. Wrapping those safety poles dramatically increases your store's curb appeal. In addition, holiday bollard covers with candy cane designs are a great way to welcome the Christmas season. When everybody else is decorating doors and windows, let these festive parking posts help your business stand out from the competition. Holiday bollard covers are not only very affordable, but they're also washable and reusable for each coming season.
What else do I need to know about these decorative pole wraps?
Our holiday bollard covers are fabricated from 98% polyester/2% spandex fabric. The elasticity allows the material to stretch over the post easily.
The wraps are sized for 60" tall bollards that are 6.5" in diameter. The cover's opening features an embedded elastic cord which helps to hold the sleeve in place at the bottom.
Our popular stock option, the "candy cane", is the go-to choice for most customers. With its traditional pattern and red & white color scheme, the wrap certainly makes one look twice, especially when applied onto one of these safety poles.
On the other hand, we offer custom-printed bollard covers. Send us your artwork and we'll print the unique graphics for a personalized decoration ideally suited to your particular establishment.
Decorating the bollards in front of your business is a simple task because they are already installed and regularly spaced. All you need to do is slide the sleeves over the poles and you're good to go. Talk about easy! Other applications ripe for decoration are the standard posts installed around gas meters and electrical junction boxes. How about the bollards warehouses install to prevent their storage racks from getting hit? Or the lines of poles separating busy streets from pedestrian walkways and parks? Wherever there is a standard 6.5" wide bollard, it can be adorned with a festive wrap. Looking for more outdoor displays for the holidays? Christmas flutter flags for seasonal advertising are another great display designed for attracting motorists and passersby!