Slotted Wall Standard Shelving Systems for Heavy-Duty Performance
---
Wall Standards With Shelves Are The Affordable Choice for Merchandising!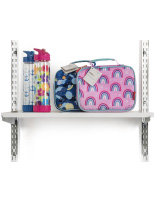 Need a no-nonsense display solution at a great price? Slotted wall standard shelving systems are very popular with retailers for two reasons: Strength and Affordability. Thanks to their steel construction and modular design, these storage fixtures offer rugged dependability. Slotted wall standard shelving systems cost much less than slatwall or gridwall displays. Their simplicity is another win. With just a couple of channels and shelf brackets, you can install a solid storage solution to handle all kinds of merchandise. Heavy items like liquor bottles, dinnerware sets, and paint cans are no match for our slotted wall standard shelving systems!
What are the individual components that make up these display fixtures?
Wall Standards are the vertical members that support the load. The steel U-channels feature 1/2" long slots spaced 1" on center, approximately 3/8" apart. The double-slot standards are designed to be used where the side-by-side shelves meet. The single-slot channels are to be used at the end of a run or as extra support in the middle of a shelf. In order to hold heavy objects, the wall standards must be screwed into studs for strength and safety. Installing with hollow wall anchors into sheetrock is not recommended.
Shelf Brackets are simple affairs that hook into the channel slots. These cantilevered accessories are standards of the industry and come in 8", 10", and 12" depths. A hooked stop on the end keeps the shelves in place. Raising, lowering, or adding a shelf is quick and easy. The beauty of this modular system lies in the engineering. Correctly installed, it's virtually impossible for the fixture to fail.
Laminated MDF Shelves are 3/4" thick and come in the three shelf depths noted above. Choose from black, white, or hard rock maple finishes. All boards are available in 24" and 48" lengths.
Wall channels and brackets offer an incredibly strong shelving solution for a fraction of the cost of other systems. No heavy slatwall panels to move and install — just simple and dependable hardware at a very attractive price. Wall-mounted gridwall panels are a different display system (seen as an interesting, but more expensive, alternative to channel standards). With its modular square grid design, you'll get great flexibility in how and where your merchandise can be displayed.