Automotive Feather Flags for Dealerships, Service Stations, and Used Car Lots
---
Announce and Promote Various Auto Services with Outdoor Flutter Flags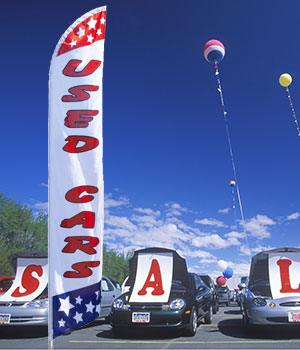 Is your car-related business situated along a busy street or thoroughfare? Automotive feather flags make excellent advertisers when placed out in front of your establishment. Pedestrians and motorists alike can't help but notice them thanks to their eye-catching movement. Our automotive feather flags come with everything you need to install. You get the fabric banner, aluminum poles, and steel ground stake all for one low price. Businesses like auto dealerships and used car lots like to exploit conspicuous advertising at all times. As a result, automotive feather flags are bright, colorful, and move with the wind — a perfect combination!
What can stock message fabric banners do for you?
Automotive feather flags that advertise "Used Cars" are an obvious choice. Most people familiar with your establishment know that's what you sell. However, there are other aspects of your business they may not know about. In addition to selling cars, announce to potential customers you offer "Certified Pre-Owned" vehicles and/or "Easy Finance".
Car owners like to keep their vehicles sparkling in the summer months and clean of road salt and dirt during winter. If your business has either an automated or DIY "Car Wash", advertise with a feather flag out in front! Some establishments have their washing facilities off the side or in the rear of the property. Make sure the public knows you offer this desirable service.
Service stations and garages can also benefit from a little extra advertising. Whether offering regular "Auto Repair" or accessories like "Remote Starters", it pays to market your business with an attention-getting call-to-action.
Each fabric banner is printed with the dye-sublimation process on one side only. A reverse image of the graphic is also visible on the back. At 14 feet tall, the flutter flags will attract the eye from a considerable distance. One of the greatest advantages to these stock message signs is their awesome affordability. Priced around $50 apiece, it's easy to purchase multiple units for even more visibility. We suggest planting numerous models along the front of your property for maximum exposure.
Flags that advertise a SALE
attract customers like bees to honey. Be sure to include these fluttering beacons to your marketing campaign as well!