Wooden Brochure Holders Wall Mounts with Oak and Mahogany Finishes
---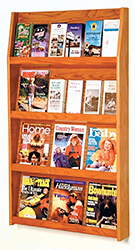 Wooden Wall Mounted Brochure Holders with Clear Acrylic Faces
Want traditional flyer displays for an office, bank, or waiting room? These wooden brochure holders wall mounts are made of real wood with oak and mahogany finishes. Each mounted leaflet display has a warm, classic appearance that matches traditional décor. Wooden brochure holders wall mounts feature clear acrylic pocket faces that make flyers highly visible. In addition, the literature racks with wide shelves accommodate 4" wide trifold pamphlets as well as 8.5" x 11" media. Our wooden brochure holders wall mounts boast tiered leaflet shelving to save floor space for furniture.
Why choose wood mounted pamphlet displays?
Our wooden brochure holders wall mounts are made from real wood for a traditional appearance. Each shelving unit is stained with a light oak or dark mahogany finish. For more fixtures with a classic aesthetic, browse our authentic wood displays, including retail shelving and display cases.
While these brochure holders wall mounts are made of real wood, they feature clear acrylic leaflet pocket faces. Visitors will easily be able to see what services are offered with these high visibility flyer shelves.
The multi-tiered brochure holders wall mounts have lots of space for featuring promotional materials. Each pocket can hold two 4" x 9" pamphlets or a single 8.5" x 11" catalog. Each display has at least four of these slots, allowing advertisers to feature eight prints at once! Our largest models have 12 pockets to fit 24 tri-folds, 12 magazines, or a mix of the two sizes. Use the included plastic dividers to keep stacks of promotional media separated.
Our brochure wall mounts are excellent for promoting literature with their simple design. Their open, high visibility pockets allow for easy access and visibility. That's why these magazine and brochure wall mounts are often used in financial institutions, travel agencies, doctor's offices, and all kinds of waiting rooms. Whether it's classic brown oak or deep red mahogany, visitors will notice your promotional literature. Choose these pamphlet wall mounts to give your visitors all the information about your services.