Floor Standing Literature Holders Organize Take-Away Marketing Media in High-Traffic Areas
Shop Floor Standing Literature Holders by Type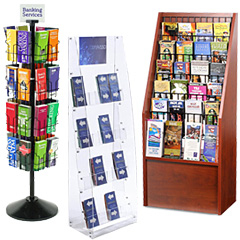 Folded Brochures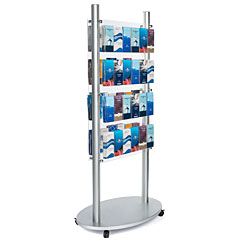 Adjustable Pockets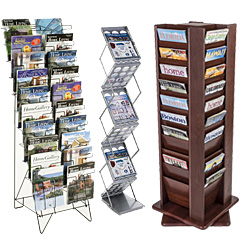 Full-Size Magazines
---
Shop Floor Standing Literature Holders by Feature
---
Freestanding Literature Racks Professionally Present Printed Advertising Materials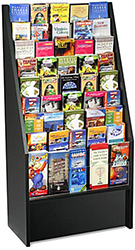 Do you need a better way to organize printed materials for customers to browse? Use floor standing literature holders, also known as brochure racks, to capture the attention of passersby and give them a place to scan industry periodicals or product catalogs from. Merchandisers provide customers with information about special promotions, company benefits, or news with these displays. Floor standing literature holders can accommodate magazines, brochures, and pamphlets. Some models include top-mounted sign and poster frames with ample room below to present catalogs or leaflets. These units grab customers' attention and provide them with supportive take-away material. Floor standing literature stands find a home in any high-traffic location. This includes offices, dealerships, and trade show exhibits. Add any of these fixtures to your demonstration to promote a better informed client base.
We have a promotional literature stand for any situation, with top options including rotating and portable units. Each unit is durable built from a variety of materials including metal, wood, cardboard, plastic, and acrylic. Given the large range of style options, merchandisers can be sure to find the perfect literature stand to match their needs. Place these freestanding racks in trafficked locations to boost engagement. Printed media racks ensure that customers are more likely to take home marketing materials.
Which types of booklet holders stand out from traditional models?
Portable multi-pocket racks are ideal for trade show use and pop-up shops. Some models include top-mounted sign holders for increased marketing presence. Others offer counter space large enough to hold laptops and other presentation materials.
Revolving catalog racks are a high-visibility option and offer ample pocket space. Carousel racks make it easy for customers to view large selections at once, maximizing your marketing potential.
Adjustable magazine stands adapt to the varying marketing needs of your organization. These units have pocket dividers that allow merchandisers to display magazines, brochures, and catalogs.
Literature holders with poster frames are a key marketing tool to grab customer attention. Use these units for promotional events or at trade shows to stand out from the competition. Educate passersby about your latest offerings with take-away information.
Literature holders available are essential to the success of any organizations marketing campaign. Multi-pocket units offer a plethora of information that aids customers in their decision making process. Whether you are a retailer looking to educate others about your product line or are a community center whose goal is to inform guest about local events, a literature holder will increase your exposure.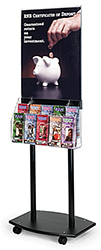 What materials are these information stands made out of?
Cardboard folding displays are lightweight and affordable. Many trade show exhibitors use these fixtures for their inexpensive price point and single-use capabilities.
Wooden holders provide an upscale appearance and high durability in busy locations. We offer a number of wood finishes to match the decor of any environment, especially in professional settings.
Metal magazine stands are perhaps the most durable of our product line. Each are made with steel or aluminum and will withstand heavy use in high-traffic areas. The sleek metallic design makes these units an appealing option in any industry.
Plastic and acrylic options include solid black or clear frames, most often used in retail stores or lobbies. Many printed media holders include poster frames which boost marketing potential.
Magazine and brochure holders, including newspaper stands, are a great way to spread information to your guest. An educated clientele base helps build brand awareness and helps customers make better decisions. For organizations with limited floor space, browse our wall mounted multi-pocket holders to save space while maintaining a centralized location to present marketing material. Diversify your selection to educate customers of product lines, industry publications, and medical advice to show that your organization is as much of an expert in your field as Displays2go is about store fixtures.