Countertop LED Display Boxes Showcase Small or Single Objects
---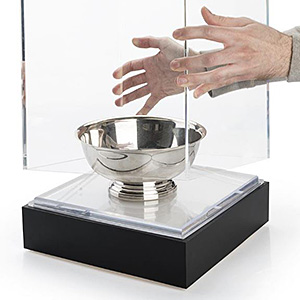 Tabletop Illuminated Display Boxes Highlight Artifacts and Merchandise
What's the best way to showcase yet protect small objects? Countertop LED display boxes feature internal illumination for merchandise, artwork, or collectibles. Place a single object or a small grouping of items inside for dramatic presentation. Our countertop LED display boxes feature clean lines and come in square or round models. Their small stature makes them perfect for placing on top of floor pedestals, shelves, or for use as a tabletop centerpiece. Countertop LED display boxes are priced for every budget and each style offers something different!
What types of illuminated tabletop showcases do we have to offer?
Countertop LED display boxes with square or round designs are our most affordable. The lift-off acrylic top provides easy access while keeping your items dust-free. The internal lights can be set to one of 16 colors via the handy remote control. Cycle through the many hues for an animated, eye-catching presentation! These lightweight display boxes are excellent for featuring product samples at trade shows where they can attract significant attention. Also, their color-changing abilities can complement items such as action figures, sports memorabilia, or models.
Mid-price display boxes are taller and feature a more refined design. This style of modern vitrine bathes the subject in white light (no colors) for a truly professional look. This makes the cases an excellent choice for spotlighting trophies, historical artifacts, and works of art. Their shape is tailor-made for items like electronics or smartphones in retail stores. Collectors will find that 1/6, 1/9, and 1/12 scale figures will fit perfectly inside as well.
Top-of-the-line display boxes are intended for upscale jewelry stores, museums, and other high-end interiors. Each lockable vitrine has a stainless steel frame with a bronze finish and white leatherette interior. They also feature a backdrop slot that displays your personalized full-color graphic. Instead of a lighted base, these showcases have light strips at each corner that illuminate the subject from more angles. Feature a work of art in front of the artist's bio or hot new merchandise with the company's logo behind it. There are so many ways to use these customizable showcases!
Our illuminated tabletop boxes are ideal for putting high-interest merchandise and artwork in the spotlight. Want an even better way to show off your most valuable offerings? Feature your items in front of an HD video screen! Floor standing digital display pedestals put merchandise and exhibits in front of an LCD flat panel with optional custom graphics. This is a great way to attract the attention of passersby or inform them about the featured contents.