Promotional Mini Golf Prize Game for Drawing Visitors at Trade Shows
---
Mini Golf Games Drum Up Excitement with Prize Giveaways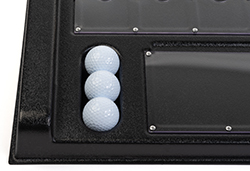 Looking to make your events a little more lively? Our promotional mini golf prize game engages visitors with colorful sights and sounds. These attractions feature your custom printed graphics, reaching out to passersby with your official branding. The promotional mini golf prize game is a great way to give people product samples and branded merchandise at commercial events. Gift giveaways at fundraisers build excitement for the cause and keeping visitors interested in the goal. The promotional mini golf prize game is an ideal way to bring some fun to your event and more attention to your organization.
Why choose prize putt kits to promote your brand?
Our promotional mini golf prize game is fun! Different from classic putter sets, this attraction features seven different slots that the ball can fall into after the swing. Exhibitors can use these spaces to determine what players will win. Mini golf prize games get people excited when there are giveaways on the line! The pegs on the board cause the ball to randomly bounce around before it settles on the outcome. What better way to build anticipation and excitement with your promotional display? Choose a model with LED lighting for an even more enticing attraction for your event.
These trade show mini golf prize games offer plenty of real estate for featuring custom printed graphics. In addition to personalizing the reward slots, there are large areas for company branding and attention-grabbing artwork. Feature your logo right in the putting area, getting anyone who sees the attraction to notice your involvement. Make sure everyone knows your name and mission with your personalized graphics printed in full color.
We offer accessories with these golf prize games for further enhancing your event presence. Play with custom printed balls for the full branding package. These are great for giving to players, leaving them with something to remember your brand a way to connect in the future. Bring your golf prize game to events with ease using our travel bag that fits the board, putter, board, and graphics all in one place. In addition, get backup artwork to make sure that your company is always represented with the right artwork.
These golf games are excellent for connecting with people at events, breaking the ice with a fun distraction. Attractions like these let passersby to get involved with new companies and brands, acting as the first step to a professional relationship. We offer a wide variety of crowd-pleasing displays for trade shows, including spinner games, that create an exciting environment that builds interest in your company.