Tensabarrier Replacement Cassettes - Retractable Stanchion Belts
We're sorry, but no items matched your search query.
---
Replacement Stanchion Belt Cassettes for Tensabarrier® Crowd Control Posts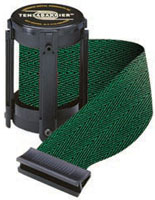 Are your stanchion belts damaged or frayed? You don't need to buy an entire fixture — just get some new Tensabarrier replacement cassettes. Stanchion are often put in high-traffic areas, and as a result, see a lot of wear and tear. It would be prohibitively expensive to purchase all new posts when just the webbing is looking a little shabby. These retractable Tensabarrier replacement cassettes are available in single quantities, so you can swap out just the worn-out belts. Each unit comes fully assembled for an easy repair, as well. Simply unscrew the old head using a Phillips screwdriver, slide the new one on, and screw into place. These Tensabarrier replacement cassettes with nylon belts can be swapped out in minutes.
What are some features of these retractable band cartridges?
Choose between either a 7.5 or 13-foot belt. If you've got an especially large area to cover, extra long webbing can help you cover that distance with minimal visual interruption. A greater length gives you more options for spacing and arrangement.
With multiple receiver points, it's easy to create the right layout for your room. Attach bands from adjoining stanchions in three directions.
Safety should always be a key concern. With an interior braking system, these belts retract slower than other models, reducing the chance of injury from accidental releases.
With a wide variety of colors available, you don't have to wait for your belts to wear out to change up your look. Choose from solid or striped to add that little extra bit of detail your lobby is missing. these retractable belt heads are perfect for quick repairs, as back-up parts, or just to keep some color options on hand. Looking for clean endpoint to your crowd control setup? Explore terminating post and wall-mounted receivers for Tensabarrier stanchions. These specialty fixtures accept retractable belts and open up more options for your queue lines and safety barriers.