Commercial Step Stools and Stairs Offer Better Safety in the Office or Workplace
---
Industrial Stairs and Stools for Accessing Out-of-Reach Objects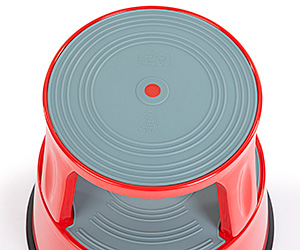 Everyone needs a helping hand now and then. When it comes to reaching for items above, let our commercial step stools provide the boost. Small and compact, these lightweight stands offer convenience when compared to lugging a hefty ladder. Our commercial step stools come with or without wheels and can be transported easily either by rolling or carrying. With any business, workplace safety is the #1 concern. These commercial step stools come with many built-in features designed to reduce the risk of injury when reaching high above.
What stepping stand styles are available?
Round commercial step stools are constructed from steel and come with a maximum load rating of 330 lbs. These models feature retractable casters inside the metal housing. The stools roll easily until weight is applied, then the stand plants firmly to the floor with absolute stability. The two step levels feature anti-skid rubber surfaces. A rubber bumper surrounds the entire steel perimeter at the base. This allows you to roll, push, or kick the stool where needed without fear of damaging walls or other obstacles.
Plastic step stairs offer the best in safety, stability, and corrosion-resistance. These models are ideal for industrial workshops, warehouses, marine docks — whatever you can throw at it. The stairs are molded from high-density polyethylene and come with a hefty maximum load rating of 550 lbs. Multiple units can be stacked for storage and each platform features handholds, rubber feet, and anti-slip strips on each step.
When all you need is a little extra height to lengthen one's reach, we highly recommend these stepping stools and stairs. Pulling over a chair (or worse, a chair with wheels) is not the safe choice. Slipping is perhaps the greatest concern, so rest assured our models come with the anti-slip surfaces required for safety in the workplace. Displays2go also sells other supplies with non-skid features. Commercial carpet runners and anti-fatigue mats offer comfort and slip-proof performance not only for employees but also for customers.