Hanging Ceiling Poster Frames for Suspended Commercial Signage
---
Suspended Signage, Hanging Rails, and Ceiling Poster Frames with Hardware
Does your business need to feature advertisements and directories overhead or in storefront windows? Our selection of hanging ceiling poster frames are perfect for large-scale commercial use in department stores or shopping centers as well as small-local businesses. Suspended graphic kits place promotions directly above the customer's line of sight as they walk through store aisles or office hallways, conveniently grabbing their attention and directing foot traffic. Our hanging ceiling poster frames, also known as banner rail systems, are ideal for storefront presentations and include snap-open frames secured by S-hooks or suctions cups. We offer clear nylon and chain suspension hardware kits, which provide everything you need safely hang placards and banners in any location. Choose hanging ceiling poster frames with single or multi-panel designs with eye-grabbing features such as tilting mounts and illuminated backgrounds. Our sign hangers are durably constructed with steel, aluminum, acrylic, and plastic designs intended to last for years in the busiest of environments.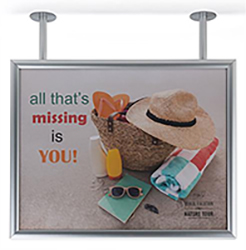 What styles of suspended sign kits do we offer here?
Snap-open holders, also known as banner rail systems, are available in clear plastic or brushed aluminum. These hanging ceiling poster frames are designed to secure thin posters from above or against storefront windows with suction cups. Our banner rails are a low-cost, high-impact marketing tool that can capture attention by positioning graphics overhead or for passersby to see.
Single and multi-panel ceiling poster frames with acrylic panels and jack chains allow users to create graphic grid arrays. These mounted cable systems are seen in major storefronts and are especially popular in large-scale shopping centers. Some ceiling poster frames include illuminated backgrounds with an acrylic overlay to truly make your graphics pop!
We offer retail sign hardware kits which include everything you need to suspend overhead graphics. Ceiling poster frame cable suspension displays include chain hangers, steel cords, and monofilament nylon lines as well as barnacle clips, S-hooks, and suction cups. Our customers tend to buy these kits in bulk as an alternative to traditional wall-mounted or floor standing displays.
Add a suspended poster frame into your advertisement or wayfinding mix to showcase promotional graphics in one of the most underutilized spaces. These types of displays maximize the effectiveness of your floor plan by placing advertisements overhead, leaving more possibilities on the showroom for products and customer foot traffic. Many printed graphic poster frames can support double-sided presentations to promote multiple images at once. We carry a large selection of retail advertising graphics holders in wall mounted and floor standing models. Use our marketing fixtures in any industry from restaurants, offices, trade shows, and even family-owned businesses. Displays2go has everything you need to help more customers find you, whether you are a start-up or multi-million dollar company!