Puzzle Frames for Standard Rectangular and Panoramic Jigsaws
---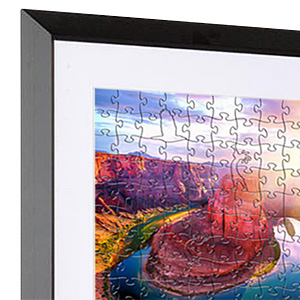 Standard and Panoramic Frames for Puzzles
Want to keep enjoying your completed jigsaws long after they're done? Puzzle frames display your efforts on the wall, just like a traditional print or poster. A favorite hobby for many, assembling a picture piece-by-piece offers a fun and relaxing way to pass the time. When it's all said and done, maybe one particular jigsaw stands out from the rest. Puzzle frames allow you to appreciate the photography or illustrated imagery in wall-mounted fashion. Besides, it also stands as a reminder of the time and effort it took to finish it! Our puzzle frames load from the rear and come in sizes to fit the most common jigsaws.
500-piece pictures are a popular choice with overall dimensions of 24" x 18". Jigsaw puzzle frames that come with pre-cut mat boards will hide approximately 1/4" around the picture's perimeter. However, the matboard serves as an accent and also gives "visual" breathing room to the overall presentation. Panoramic puzzle frames accommodate the extra-wide formats used for sports stadiums, cityscapes, and landscape photography. These jigsaws typically comprise 750-1000 pieces with an overall dimension of 39" x 13", making them ideal for panorama-style framing.
Loading your completed masterpiece inside the frames is straightforward. Remove the backer to insert your jigsaw behind the clear acrylic lens. To make this job easier, we recommend stabilizing the puzzle. There are clear, specially-formulated glues (such as Mod Podge) you can brush onto the face to hold the pieces in place. Another alternative is pressure-sensitive adhesive, which is applied to the back side. Either way, these techniques not only turn your jigsaw into a solid sheet, but also keep it perfectly flat (which is vital for framing). What other kinds of displays let your creative juices flow? Shadowbox frames have deeper internal capacities for showcasing three-dimensional objects like collectibles, awards, and keepsakes!
Framing pieces of artwork created in any medium can be an art in itself. Our wide selection of picture and poster holders come in styles suitable for display anywhere from the boardroom to the living room. Using ready-made frames for artwork ensures consistency and quality, which are especially important when items are made for sale at events such as craft fairs or via online e-commerce sites. Pre-made framing is also a great choice for hobbyists and can give any piece a professional look for display or gifting!