Stanchion Post Accessories Fit Most Brands and Styles
---
Value-Adding Accessories for Crowd Control System Poles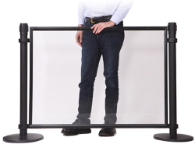 Are you looking to do more with your queue line fixtures? These stanchion post accessories attach to your existing crowd control setups, adding features and practicality beyond organization. Standard retractable belt or rope barriers are great for keeping groups of people orderly, but what about all that wasted space? Replace those traditional checkout line boundaries with a set of slatwall panels filled with tempting impulse buys for shoppers to browse. Use these removable stanchion post accessories to maximize your merchandising or advertising space during the holiday rush! Put your branding efforts front and center with some acrylic frames that prominently display your logo to visitors.
What makes these stanchion post accessories great for any crowd control setup?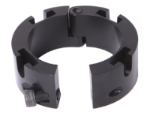 Each add-on is built to work with a variety of fixtures. That means that no matter what manufacturer you originally bought from, these stanchion post accessories can adapt to fit most standard sizes. Simple, adjustable mounting hardware allows these add-ons to be moved from fixture to fixture with relative ease.
Panel add-ons attach via a four-way collar that allows for a breadth of configuration options. Their one-piece, hinged design makes setup easy and quick, requiring only the included Allen key. Arrange and rearrange these post accessories as your establishment's merchandising needs change.
Seasonal sales and increased traffic around the holidays can create a need for more space for inventory. Because these panels can be set up and taken down easily, they make excellent temporary fixtures. Attach these post accessories to your crowd control poles only when needed and revert back to your regular retractable belt system when the seasonal rush is over.
Normally, checkout lines and queue systems are single-purpose. Why not do more with the fixtures you have? Whether you opt for an aesthetic upgrade with frosted panels, a fresh advertising approach with clear dividers, or maximizing your space with slatwall, these accessories can revitalize your sales floor or lobby. Looking for some more ways to push the functionality of your crowd control fixtures? These safety barrier pole-topper add-ons provide guests with conveniences like umbrella bags and writing tables. Use these accessories to think outside the lines and reconsider what you can do with your queuing system!