Acrylic Easels - Modern Floor Standing and Tabletop Graphic Holders
---
Tripod Easels with Sleek Clear Acrylic Design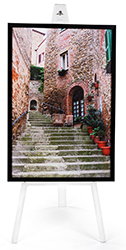 Looking for a unique way to feature photos, artwork, and graphic panels? Our acrylic easels have an elegant, modern design that complements poster frames and drink menus alike. With a modern clear fabrication and a traditional tripod or H-style design, these fixtures are ideal for creating a chic presentation for your business. Sleek, see-through acrylic easels put more attention on your printed messages, rather than on the holders themselves. We offer both floor standing and tabletop models to fill multiple roles in hotels, art galleries, restaurants, event centers and even outdoor dining areas. Acrylic easels' versatile design makes them an excellent choice for presenting graphics while conveying a sense of professionalism.
How do businesses use these clear display stands?
Floor standing acrylic easels are great for featuring large posters and artwork, framed or not. Their simple, elegant appearance puts them at home in art galleries, putting all the attention on your painting or print. With these standout displays, it's easy to direct event attendees to the entrance or to promote a new business. The singular, eye-catching appearance grabs attention easily — easily introduce new products, services, or artwork to passersby.
Clear easels for tabletops bring the modern look to people's eye line. These small displays are often used for featuring photographs, menus, and small promotional graphics. They're ideal for promoting a new book in a bookstore or company information on the reception desk. The plastic stands also present photographs with distinction, showing them as treasured keepsakes or works of art. There are many uses in restaurants: promote drink specials and desserts on dining tables, inform customers about events on the bar counter, or simply feature a sign next to the tip jar.
What types of graphic displays do we offer?
Our floor stands are available with the following features:

Tripod or H-Frame Design
Height Adjustability
Portable Folding Frame
Top and Bottom Shelving

Countertop displays are available with:

Folding "Plate Holder" Design
Folding Tripod Frame
Included Sign Holder
These clear plastic easels create an interesting spin on the classic picture display. Whether you're beckoning patrons into an event at a conference hall or just featuring your favorite photograph on your desk, these fixtures do it in style. Looking for a poster frame for your artwork before you feature it on a tripod? Our wall mounts are perfect for adding this extra detail to your display. Choose from easy-open snap frames, sophisticated wood models, or sleek frameless designs that will protect your print.