Pick & Pluck Foam Cases Provide Travel-Friendly Protection for Fragile Trade Show Items
---
Ensure Safe Transport of Valuable Event Items with Pick & Pluck Foam Cases
---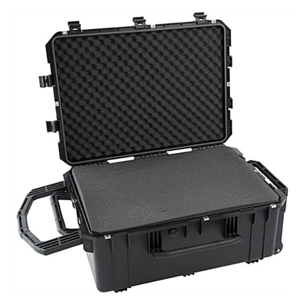 When it comes to setting up your trade show display, booth, or exhibit, many businesses pull out all the stops, investing thousands into the perfect banner, the right lighting, custom signage, and more. Our pick & pluck foam cases are just as important, ensuring that your investments remain safe and protected through transit, which can often involve shaky cargo areas on planes, trains, and especially buses. The inserts in these travel-friendly cases can be cut to size to fit any custom shape, adapting to hold camera equipment, tablets, monitors, lighting, and any other sensitive materials through transit. Take every precaution by using pick & pluck foam cases to safeguard your valuables and reduce the risk of having to deal with broken or misplaced items that are essential to your exhibit. Padded travel cases are a staple for experienced trade show demonstrators who take advantage of key features such as locking capabilities, rolling casters, and hard outer shells
What do customers transport with our pick & pluck foam cases?
Television Screens & Monitors
Computer Hardware & Laptops
Projection Systems
Antiquities
Sample Products & Merchandise
Tools
Audio/Visual Equipment
Prizes
Transport cases allow trade show exhibitors to move products, tools, and fragile items between events with confidence. Take advantage of mobile hard shell cases with caster wheels to easily roll heavy items from the loading dock to the exhibit booth and back again. Custom-cut foam case inserts to meet your specific needs as a simple do-it-yourself option. The soft ester foam provides great protection for valuable or sensitive items, protecting your investment while streamlining the travel or shipping process. Browse Displays2go for a range of trade show travel cases designed for small items, digital signage, and many other exhibit staples. Secure your valued trade show accessories to and from the show with hard travel cases with soft foam interiors.