Backlit Poster Frames for Illuminated Marketing and Advertisement Displays
Shop by Placement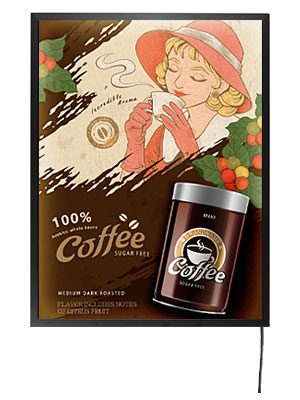 Wall Frames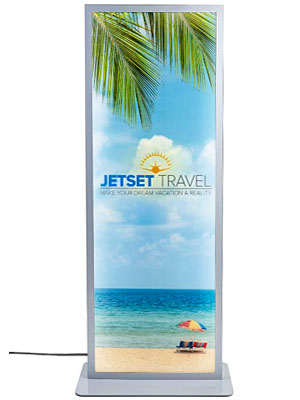 Floor Stands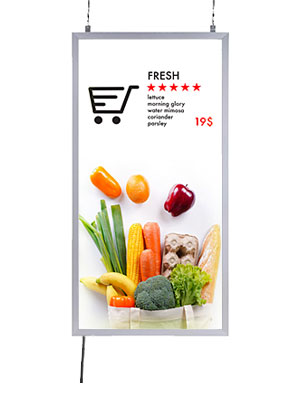 Hanging Displays
---
Shop by Feature
---
Poster light boxes Enhance Graphics with Bright Illumination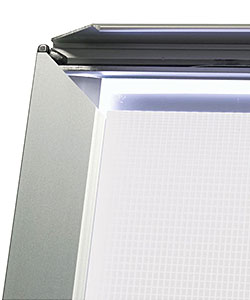 Are you looking for a way to attract customer attention to your promotional or advertising campaigns? Backlit poster frames illuminate one-sheets for the movie theater as well as marketing graphics for retail establishments. Each frame features soft, yet powerful LED lighting that creates an inviting effect, designed to draw the attention of customers and passersby. Poster light boxes are available in both indoor and outdoor models. When your place of business has closed for the night, our illuminated frames keep promoting! Use backlit poster displays as standalone displays in the lobby or out on the sales floor. We also offer backlit displays for traditional wall mount presentation or choose ceiling hanging models that can be placed behind storefront windows.
What are some important features of our illuminated poster frames?
Poster light boxes offered by Displays2go feature narrow aluminum profiles of less than an inch, which is perfect for modern environments. Another option, frameless acrylic LED sign holders provide a light, see-through presentation which makes them appear to float off the wall.
Models rated for exterior installation come with wider aluminum extrusions than the indoor varieties. This is due to the door's weatherstripping which is necessary to keep moisture out of the box and away from the electronics.
Hanging light boxes provide an easy way to display behind windows. Each frame comes with nylon line hanging kits, including the ceiling fasteners. Displaying illuminated poster frames on storefronts creates a vivid presentation that helps to sell your business and/or services, especially at night!
We also offer aluminum SEG frames designed for today's silicone-edge graphics. Choose from a selection of three standard poster sizes, and each box comes pre-wired with the internal lights.
Illuminated edge acrylic or aluminum frames are durably constructed with the industry in mind, maintaining a simple elegance that will last for years while keeping the focus on the artwork presented. Intended for commercial use by businesses, these LED display fixtures transform everyday marketing and advertising signage into beacons on light. For best results, we highly recommend buying your custom-printed graphics on backlit film. Displaysgo offers this print service in standard poster formats. Inserting paper posters into a light box can work, but the image will appear washed out with limited contrast, most noticeably in the darker colors. Backlit film corrects this problem, ensuring your graphics retain vibrant colors and rich blacks.
Advertising and signage are used by every business, so use an illuminated sign frame to help promote your services and ensure your message is received. Having the right promotional materials can make or break your organization's big sale or event, so shop with the experts at Displays2go for all of your business' marketing needs!
Please Note: The fixtures sold here are not intended for therapy or any other medical use.