Poster Light Boxes for Illuminated Marketing and Advertisement Displays
---
Backlit Poster Frames for Floor Standing, Outdoor & Wall Mounted Box Office Light Boxes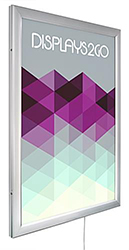 Are you looking for a way to attract customer attention to your promotional or advertising graphics? These poster light boxes illuminate marketing materials and billboards for box office hits as well as menu options for eat-in or take-out restaurants. Thin edge-lit LED frame present translucent graphics in style. Indoor and Outdoor poster light boxes feature soft, yet powerful lighting that creates an inviting effect designed to draw the attention of customers and passersby These illuminated advertisement frames are great in movie theaters for both indoor and outdoor marketing presentations. Use poster light boxes in office waiting rooms or in any retail store by utilizing hanging or wall mounted fixtures with edge-lit displays to promote featured products and events.
What are the best features of our backlit marketing displays?
light boxes with promotional graphics are a surefire way to get your advertisements noticed. Illuminated edge acrylic or aluminum frames are durably constructed with the industry in mind, maintaining a simple elegance that will last for years while keeping the focus on the artwork presented. These light boxes are intended for commercial use by businesses and companies that want to increase attention by illuminating everyday marketing and advertising signage. A lighted display will add life to otherwise normal, fixtures giving prints, photos, or translucent graphics the ability to stand out!
We offer illuminated light boxes for various uses including menu systems, POP signs, and directories. To fit every budget, we offer ultra-thin illuminated graphic frames and custom backlit translucent placards at competitive pricing. Advertising and signage are used by every business,so use an illuminated sign frame to help your marketing efforts stand out and ensure your message is received. Take advantage of high-quality translucent graphics for backlit frames to create personalized ad campaigns. Having the right promotional material can make or break your organization's big sale or event, so shop with the experts at Displays2go for all of your business' marketing needs.
Please Note: The fixtures sold here are not intended for therapy or any other medical use.