Trade Show Cases for Travel and Storage
---
Trade Show Cases for Shipping Booth Supplies and Equipment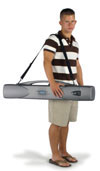 Want to protect promotional displays and booth accessories in transit to and from sales meetings, conventions, and other marketing events? Choose a trade show case with a hard shell and padding over a traditional thin plastic tote or flimsy cardboard box to protect your presentation equipment. Smaller versions of these containers with handles and shoulder straps store gaming tables and organize the supplies so they don't get lost. Your banners can be rolled up inside one of these waterproof holders to prevent staining and wrinkling. Our trade show cases with wheels make it easy to transport heavy or large exhibit supplies including counters and AV equipment. Avoid shipping hazards by choosing trade show cases to keep expensive technology from getting jostled during transport. Many of the containers we offer include caster wheels and extendable handles for maneuvering equipment effortlessly across a convention hall or school auditorium. For added security when shipping supplies, choose trade show cases with nylon straps and ATA style buckles that keep the carry case closed during transit.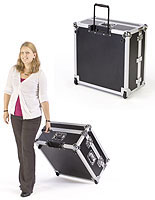 Why choose these shipping containers over cheaper in-store crates?
Trade show cases in plastic feature a hard waterproof shell lined with customizable EVA foam padding to protect flat screen monitors and electronics, popup displays, truss stands, booth lighting, backdrop panels, PVC flooring, and gaming accessories from getting dented, scratched, or wet during transit.
Lightweight plastic shipping containers with a telescoping design and height adjustability for banners are easy to store in an overhead locker on a plane, or in the trunk of a taxi. Flat versions of these plastic carriers accommodate prize wheels and other game boards, and are easy to store vertically to preserve floor space.
Some shipping cases are made expressly for transporting equipment and accessories ahead of time, permitting marketers to travel light. Nylon straps secure the contents during shipment of larger items; a large handle and wheels ensure portability once they get to their destination.
Marketers on the go love the versatility of convertible storage containers that eliminate the need for purchasing two separate units. Transform a storage crate into a demo counter with shelves in seconds - a detachable lid turns into a foot stool, and wrap-around graphics dress it up until it's time to fold back into a carry crate again.
Carry cases constructed of structured plywood, PVC, or laminated MDF work best when transport won't involve long stints outside on your way to an expo or convention. Walls constructed of ABS plastic are fireproof for additional protection when storing supplies in these crates. Available in numerous sizes, these shipping cases feature old world trunk styling with aluminum butterfly latches.
Large LCD monitors and AV equipment can be extremely heavy to move, so some of our storage options are made of wood and ABS plastic, with a non-electric hydraulic lift that raises heavy equipment out of the case; no more dropping equipment or straining backs! Wheels lock into place for stability during presentations, and a power cord with USB ports keeps devices powered during use.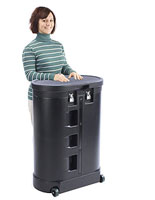 Is this your first time outfitting and exhibit booth? Check out our expert's 6-item to-do list to ensure your showbooth is a success! If your exhibit area is on the smaller side, you'll need trade show shipping cases for accessories that take up a small footprint. We offer an impressive line of prize wheel carry bags with a shallow design for gaming accessories that can be stacked vertically when not in use. Streamlined cargo holders are easy to maneuver due to built-in shoulder straps and retractable carry handles. Hard shell cases that double as counters are a great way to save space in a conference room or expo booth.
Many exhibitors buy flimsy plastic totes for their supplies, but conventional store bins lack customizable compartments to organize important components and accessories; gliding wheels for transporting heavy equipment, or other safety properties such as fire proof walls, added strapping, or retractable handles. Large or bulky equipment like booth backdrops, flooring, and TV monitors are difficult for one or two people to carry. Customizable EVA foam enables safe storage for a variety of electronic components in special sizes. High value electronics are served best by a case with a hard outer shell or a carpet-lined rectangular plywood trunk so they aren't damaged. Smaller carriers with shoulder straps and handles are functional and professional looking.
Visit Displays2go.com for promotional supplies across every industry in a wide array of styles, colors, and sizes, and don't forget the accompanying storage cases! Shop our impressive line of exhibit booth supplies for custom printed banners and flags, pop up signage, portable counters, backdrop panels, and folding chairs and tables that dramatically transform a hotel lobby or exhibit booth into an exciting showcase for your goods and services.