Metal A-Frame Signs with Folding Designs for Business and Event Advertising
---
Double-Sided Outdoor Metal Signage with Snap Open and Slide-In Designs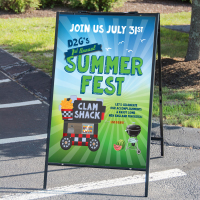 Do you need easy-to-use, attention-grabbing storefront advertising? These metal A-frame signs set up in minutes and can be placed right where passersby are most likely to see them. Choose from popular sizes, as well as units with write-on surfaces. These metal A-frame signs draw attention to your business from outdoors, helping you promote sale events, daily specials, or upcoming entertainment. Some feature snap designs that open and shut on both sides to quickly change out posters. Several of these metal A-frame signs feature a white or black write-on board, which allows retail establishments or restaurants the freedom to change out messages daily. The majority of models include PVC plastic lenses that protect signage panels and decrease glare. Choose from a variety of affordable colors and styles, from black or white finished metal, to anodized aluminum for a weather-resistant, outdoor-ready advertising holder.
What are some ways to use a metal A-frame sign?
Sidewalk advertising — Whether you're a small business trying to get the word out about new items or a homeowner promoting a yard sale, these fixtures are perfect for conveying your message. With an effortless setup process and double-sided messaging to grab attention from both directions, these frames are sure to get the job done.
Promotional use — Metal A-frame signs are an excellent tool to emphasize a sale, promotion, or seasonal special. Quickly unfold during a sale period to get the word out, then fold and store away just as easily. Give your foot traffic a boost with these sidewalk frames!
Roadside directional signage — Clearly visible messaging helps alleviate traffic and prevent confusion. These sign holders are great for parking lots and garages where they can indicate available spaces or closures, as well as construction sites and areas of road work to indicate detours or alternative entryways.
Event management — Hosting a large-scale gathering can be an organizational challenge, even under the best circumstances. Well-placed signage that offers directional guidance or event information can make all the difference. Double-sided sandwich boards allow attendees to quickly view key messaging from both directions in high-traffic areas.
Many of these curb poster displays are used by businesses to advertise new products and services. Restaurants, bars, and retail shops use these sandwich boards to entice passersby to check out their establishment. These portable displays can be set up in a matter of seconds, and their lightweight design makes them easy to transport from indoors to outdoors. When not in use, the curb signage can be folded up and placed in a closet without taking up much space. Looking for something a little more heavy-duty? Browse our selection of wind and weather-ready outdoor signs with fillable bases that are suited for longer-term use. Choose from static messaging like "stop" and "yield" for parking lots and garages or write-on boards and poster holders for your ever-changing business needs.