Mobile Poster Stands with Wheels Provide Convenient Mobility
---
Freestanding Poster Displays with Wheels Move with Little Effort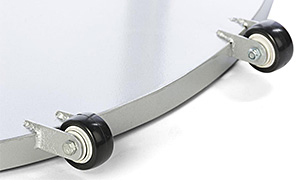 Floor stands that showcase advertising graphics are popular display fixtures. What extra design feature elevates these valuable marketing tools to the next level? Mobile poster stands provide business owners with total convenience! If you ever had to move a large, freestanding sign without wheels, then you know what we're talking about. Our collection of rolling poster stands allows for easy freedom of movement. We sell models that tilt and roll on two wheels (not unlike a handcart). On the other hand, frames featuring four casters offer total maneuverability in any direction. Whichever model is chosen, poster stands do an excellent job or raising your advertisements to eye level. Make shoppers and potential customers know what you have to offer! Our stands are designed to accommodate most poster size formats. With slide-in or snap-open loading capabilities, performing poster changes is a non-issue.
"I want to buy a rolling frame for my promotional graphics. What choices do I have?"
Mobile poster stands can display up to three images at a time. While our best-selling styles hold just the one graphic, it's important to remember that all models are double-sided.
Economy stands feature aluminum extrusion construction with black or silver anodized finishes. The short frames come with snap-open technology. To add your poster, simply flip each side up for quick and easy access. Tall models accept your graphics through a slot at the top.
Deluxe stands are manufactured with high-quality plastics such as clear acrylic and black ABS. The polished finishes of these displays project a professional and upscale appearance. For these styles, posters are inserted into the side of the holder.
Special add-on accessories offer lots of space for supplying promotional literature. Wire baskets (with their deep pockets) make them good choices for storing newspapers, flyers, and more. Acrylic brochure holders are designed for folded pamphlets, magazines, and/or catalogs. Repositionable dividers allow for customization. Display any combination of literature sizes with this convenient adjustable feature!
Pairing wheels with these stands is a perfect match. With their increased portability, floor displays move with quiet assurance. This is especially important if the frame needs to be mobile. Lots of retailers use them for advertising in malls and department stores. When opening up shop, they wheel the stand out the door to target consumers. At the end of the day, the fixture is wheeled back inside. Sounds easy, right? Multiply that activity 7 days a week and it becomes apparent how convenient a rolling promotional display can be. In addition to these larger mobile frames, modest-sized sign stands small enough to be carried are another option. Sized for smaller graphics like 8.5" x 11" or 11" x 17" inserts, their lightweight designs offer much to the store or business owner!