Retail Clothing Racks - In-Store Garment Displays for Clothes Merchandising
---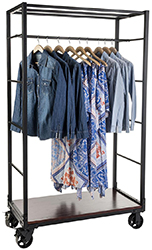 Clothing Supplies and Garment Racks for Retail Stores
Looking for attractive, high visibility merchandising displays for apparel? These retail clothing racks are made with stylish simplicity to make sure everyone sees shirts, hats, and bags for sale. We offer garment fixtures in a variety of designs and styles to match anything from department stores to pop-up boutiques decor.. Our retail clothing racks include traditional rail hangers for clothes as well as specialty displays for hats and handbags. Offered in industrial rustic and sleek modern styles, these sturdy, high capacity merchandisers make it easy for customers to pick out what they see. Browse our retail clothing racks, including minimalist multi-tiered frames, portable fixtures, and wall mounted hangers for your store.
What types of garment displays do we offer?
Our floor standing retail clothing racks for hats and bags are made specifically to feature these smaller items. These stands feature hooks and faceouts that can feature more than a hundred units! These bag and hat displays are made of strong metal to hold large quantities of merchandise at once. We also offer smaller models to draw attention to a few high-end items.
Clothing racks with rails are ideal for clothes like dresses, jackets, and shirts. This open design holds loads of garment hangers and makes them highly visible to customers. Metal rail floor stands are available with an industrial rustic design or with a modern metallic finish. Choose from ornate spiral hangers for apparel and classic wrought iron fabrications. These single and multi-tiered fixtures are available with wheels to easily move around the store.
We also offer unique clothing racks that lean against the wall. These wooden shelving solutions feature folded and hanging clothes with an open, laid-back presentation. Their simple, rustic design pairs with trendy fashion lines and accessories. Browse more of our vintage industrial store displays to create a cool merchandising atmosphere that customers will remember.
How else can you make your garments and accessories irresistible? Our slatwall fixtures create customizable racks for clothes on walls, floors, and countertops. Use hook and shelving add-ons to maximize your space, featuring large quantities of folded shirts and handbags. Many slatwall fixtures are made specifically to hold smaller fashion accessories like hats and sunglasses. Pop-up outlets and department stores alike use these slat fixtures because they can change to match stock when products are flying off the shelves. Choose Displays2go.com for high quality merchandising racks offered with fast shipping and wholesale pricing.