Commercial Wood Magazine Racks for Waiting Rooms and Other Public Areas
---
Freestanding Racks for Magazines and Periodicals Help Declutter Interiors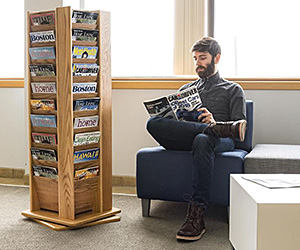 As much as businesses try to streamline their services, customers will always have to wait. It's inevitable. As a result, commercial wood magazine racks store the requisite reading material! When patrons or visitors enter your place of business, the sight of a fully stocked floor stand lets them know they can, at the very least, kill some time while waiting. Commercial wood magazine racks come with many size options depending on the number of periodicals you plan to display. Ranging from 4 to 40 pockets, these wooden floor stands feature rich stained finishes to accent any interior. At the same time, commercial wood magazine racks keep waiting rooms and lobbies neat and organized.
What are the top features of these periodical stands?
Most of these commercial wood magazine racks are fabricated by the Wooden Mallet® company. They are a leading maker of wooden literature displays, and proudly made in the USA. Since they are a manufacturer and wholesale distributor, their products are only sold through trustworthy, authorized dealers.
The magazine racks feature solid wood construction (domestically sourced). Stained finishes include light oak, medium oak, and red mahogany.
There are two kinds of stands. Regular fixed racks stand on their own with either single or dual stacks. These offer up to 20 individual pockets. If you're looking to store more magazines than that, revolving units are available. These racks offer pockets on all four sides, increasing the capacity to 40.
Then there's pocket style. The simplest designs feature open holders which look more like shelves. Literature (of any size) can be placed side-by-side, providing a full view of the covers. Another style features acrylic faceplates. When stacked, your magazines show approximately 75% of the covers. The third design is the wooden pocket. These show the smallest amount of the covers, only around 25%. However, it's the top 25%, where the magazine's title or logo is (so they will still be identifiable to the reader, see image above).
The fact that these magazine holders all feature wood-grained finishes makes them excellent choices for professionals. The warmth of this natural material adds to the overall decor. The stained finishes make them look more like traditional pieces of furniture. But not all waiting rooms and lobbies are created equal. Perhaps you prefer a modern rack with simple, clean lines? Metal periodical floor stands offer a more minimal and monochromatic sensibility. If you lean towards that direction, we've got a large selection of steel and wire racks with black or silver finishes.